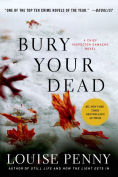 I read a lot of mysteries. It's not that I am bloodthirsty, but rather that I love the puzzle of the plot and the psychological depth of the characters. Plus a lot of the best novel writing today is being done in mysteries. I especially like finding a good series. When the same handful of characters return in book after book, the author has the opportunity to dig ever more deeply into them, revealing so much more of them over time, allowing them to change in unexpected ways.
Not every author takes advantage of that opportunity, of course. I'm pleased to say that Louise Penny does.
I enjoyed Penny's first book, Still Life, featuring Chief Inspector Armand Gamache of the Sûreté du Quebec. However, the real star of that book is the small village of Three Pines, a peaceful place near the Vermont border, not shown on any map, full of artists and eccentrics.
Although wary of the Murder She Wrote pitfall, where way too many murders must happen in small town to keep the detective busy, I thought the book promising enough to read on. I blogged about her second and third books, chronicling my increasing disappointment with the flat characters. Great suspense, wonderful plots, but the characters were too simplistic—all good or all bad—and unchanging.
Then a friend encouraged me to try some of the more recent books. I'm thrilled to report that my friend was right. The later books have the psychological shading that I crave. The core characters are each given a chance to step into the spotlight and reveal their dark corners, their secrets and dreams.
This book in particular, Bury Your Dead, is a masterpiece. Penny takes on the incredible challenge of weaving together three stories and succeeds in playing them off against each other and bringing each to a satisfactory conclusion.
Gamache is visiting Quebec City during the Winter Carnival, recovering physically and emotionally from a recent investigation. Each day he visits the quiet, almost deserted Literary and Historical Society, a bastion of Quebec City's English-speaking residents, where he examines the dusty tomes pursuing a theory he has about the 1759 Battle of Quebec. However, when a body is found in the basement, a murder that could reignite the fury of Francophone Quebec, he is pulled into the investigation.
At the same time, he is receiving daily letters from one of his friends back in Three Pines, begging him to reopen the case solved in the previous book, The Brutal Telling. And finally, there is the recent investigation, the one that went so wrong. I confess it was this third story that kept me up all night finishing the book. The events took place in the gap between the two books, and I was desperate to find out what had happened.
Even better than this masterful intertwining of three plots are the subtleties of characterisation. Gamache and his second in command, Jean-Guy Beauvoir, reveal unexpected sides of themselves. This is most effectively done through their interactions with others. We see Gamache not only with his team and the suspects, but also with his own mentor, Émile Comeau. We see Jean-Guy take on the inhabitants of Three Pines without Gamache to run interference.
Altogether, a most satisfying read and one I highly recommend. While it is generally best to read a series in order, I give you permission to jump around a bit. But don't skip over this book.
Is there a mystery series that you particularly like?