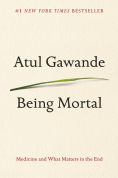 When my father was taken ill that last time, he did everything he could to keep from going to the hospital. He tried to hide what was happening, even though as a doctor he knew exactly what it was and what it meant. When discovered, he argued with my mother, trying to keep her from calling for an ambulance, and he fought the EMTs when they arrived. He yelled as he was being carried into the ER of the hospital where he had been chief of staff that he wanted to be left alone to die.
He knew what was going to happen. He was kept alive for three agonising months, undergoing one treatment program after another over his continued protests. His advance medical directive was no protection as his doctors persuaded my mother to override it.
So I thought I knew what I would encounter in this book by Gawande, a surgeon at Brigham and Women's Hospital. I knew that a huge percentage of medical costs come in the last few months of a person's life, the problem being that we aren't always sure that it actually is the end and not just another stage where recovery may be possible. I had also seen a friend's family want to deny her treatment because they were concerned about the cost of assisted living and later a nursing home.
And, indeed, Gawande speaks directly to the issues around my father's last illness.
. . . in a war that you cannot win, you don't want a general who fights to the point of total annihilation. You don't want Custer. You want Robert E. Lee, someone who knows how to fight for territory that can be won and how to surrender it when it can't, someone who understands that the damage is greatest if all you do is battle to the bitter end.
The book is a surprise, though. Gawande examines these issues through stories of his patients and his own family, encouraging us to look at that phase of life that we mostly try to pretend will never happen, that inevitable decline into death. Most interesting to me, he takes us through the history of solutions for how to make the end of life meaningful, comfortable and affordable, from the first retirement communities to exciting new ideas.
New to me was the story of Keren Brown Wilson, one of the originators of the idea of assisted living.
Wilson believed she could create a place where people like Lou Sanders could live with freedom and autonomy no matter how physically limited they became.

The key word in her mind was home. Home is the one place where your own priorities hold sway. At home, you decide how you spend your time, how you share your space, and how you manage your possessions. Away from home, you don't. This loss of freedom was what people like Lou Sanders and Wilson's mother, Jessie, dreaded.
Some later adopters of her concepts have not stayed true to her vision, instead returning to the idea that safety is the only thing that matters. Gawande astutely points out that it is usually the children of the elderly making decisions about care, and they are more concerned with the safety of their loved ones than with their possibly risky independence.
I was overjoyed to learn about Bill Thomas's work as medical director at a nursing home in upstate New York. Throwing out the safe option of keeping the elderly drugged and confined to wheelchairs, he filled their room with parakeets and plants. He added a day care center, so the residents could interact with children, to their mutual benefit. To the surprise of everyone but Thomas, these changes brought immediate improvements in patient outcomes.
The stories of patients and providers, along with Gawande's stories of his own family's confrontations with these issues makes this an enormously readable book. The stories bring the science to life.
All we ask is to be allowed to remain the writers of our own story. That story is ever changing. Over the course of our lives, we may encounter unimaginable difficulties. Our concerns and desires may shift. But whatever happens, we want to retain the freedom to shape our lives in ways consistent with our character and loyalties.
I would have liked to see Gawande address the issues related to the people working in these institutions. Yes, the structure of the institution and the principles behind that structure are the first step, but you must have people on the ground to carry them through on a day-to-day basis. As our population ages, care homes of every type will have an even harder time than they do now finding and adequately paying workers. We need to be thinking of how to expand our workforce of compassionate and well-educated people willing to take on an often unpleasant job.
Still, I am thrilled with this book. I hope it opens a much-needed conversation. My father would have loved this book and talked about it with everyone he met.