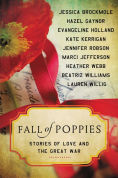 This new anthology comes in the middle of the centennial of the Great War, later called World War I. Usually when we think of centennials we think of celebrations, but this occasion is one for remembrance, with all the mixed emotions memory evokes.
I have written before about the reasons for my intense interest in this war. Poets like Wilfred Owen and Siegfried Sassoon took me beyond the dry facts of schoolroom history. My fascination grew as I began to realise just how much those few years changed Western culture and influenced all that has happened since.
These stories all take place, at least in part, on Armistice Day, 11 November 1918, when the war ended, not in victory or defeat so much as in exhaustion. They are love stories: romantic love, love between parent and child, love of a native or adopted country. They express on a personal level what that day meant.
The authors—Jessica Brockmole, Hazel Gaynor, Evangeline Holland, Marci Jefferson, Kate Kerrigan, Jennifer Robson, Heather Webb, Beatriz Williams, and Lauren Willig—come to that day in different ways. Some stay firmly in that day while others start before or after. Stories are set in Paris, Brussels, Kenya, Dublin, the English village of Brimsworth, even Pelahatchie, Mississippi.
All are haunted by loss. The indescribable losses of those years, falling on a population accustomed to peace and plenty, left everyone terrified whenever the postman stopped at their door, as Hazel Gaynor describes in her story "Hush". On the first day of the Battle of the Somme, British forces experienced 57,470 casualties, 19,240 of whom died. French and German forces also suffered huge numbers of casualties.
Yet even with the omnipresent losses, these are stories of unexpected connection. Evangeline Holland's narrator in "After You've Gone", Morven, is a woman of color from Scotland, without money or friends in Paris when she meets a man who has a surprising link with her past. In Kate Kerrigan's "The Photograph" set in the present day, Bridie learns something new about her beloved great-aunt that helps her find a way forward in her current troubles. In "Hour of the Bells" Heather Webb's heroine, Beatrix, the native German widow of a French clockmaker-turned-soldier, undertakes a journey out of despair that leads to surprising encounters.
If there is consolation to be found in contemplating these cruelly hard times, it is this: that in the midst of death, we are alive. Even in our great grief, we can be touched and at least a little healed by love.
What stories of World War I have you read?