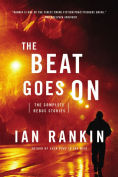 Two weeks ago I was thrilled to hear Ian Rankin speak at my local indie bookstore. He's been one of my favorite authors ever since the early 1990s when I picked up one of his books at a store in Toronto. I'd seen high praise for his work on DorothyL, a listserv for mystery enthusiasts, but his books were not available where I lived and online bookstores were only just getting started.
Rankin's books feature John Rebus, following him from his early days as a detective sergeant in Edinburgh as he moves up through the ranks. In the last few years, Rankin has started another series with Inspector Malcolm Fox, but this volume of short stories is all about Rebus.
It's surprising to me that short story collections are not more popular, especially now when there are so many entertainment options and our attention spans are said to be shrinking. One reason that I sometimes resist short stories is that I find the beginning of a story requires the most concentration. With a novel, the payoff for that investment is much larger than with a short story. However, here the familiar characters and setting make the stories easy to move into.
Putting a story collection together can be tricky. When you put stories written independently next to each other, sometimes unwanted resonances or repetitions might emerge. Not here. The stories are chronological—one of the joys of the Rebus series is that Rankin has the character age in real time—and vary in interesting ways. For example, while all of the stories are in third person, some of them are from the point of view of characters other than Rebus.
We first meet him in his fifties, living alone since his wife left taking their daughter with her. Rebus doesn't have much of a life outside of the job: just a few friends from work, a broad knowledge of the pubs in Edinburgh, and a love of music. He's known for going his own way—a trait not valued in a bureaucratic organisation like the police—but also for solving the thorniest crimes. He carries emotional scars from his past, wounds that are chinks in his armor. And, like the best detectives, he has a strong moral code that is constantly being tested.
What I love most in Rankin's novels are the complex puzzles. The name Rebus itself means a puzzle. In every story, there are multiple strands, later understood to be thematically related, that come together at the end. To my surprise, the stories here are also quite complex despite the smaller playing field.
I also love the huge role played by Edinburgh in Rankin's work. I feel like I know the city even though I've never been there. We endure its weather, spend time in Rebus's favorite pub, the Oxford Bar, and visit the tourist spots like the Royal Mile and the statue of Greyfriars Bobby. We find ourselves in less savoury parts of town and even explore secret places, like the city below the city. As we follow Rebus in his chase for clues, we start to understand the differences between Edinburgh and other places, such as Glasgow or Fife.
There was standing room only at my local indie bookstore when Ian Rankin spoke. I'm delighted that so many readers have discovered this fabulous author and that he is continuing to give us stories that challenge our minds, enlarge our world, and ask us to look again at our own moral code.
What mystery writers have made your list of favorite authors?