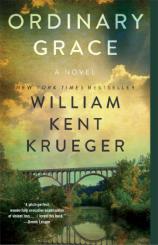 I've long been a fan of Krueger's Cork O'Connor mysteries. Like many such series today, they are graceful and profound enough to qualify as literary fiction. This stand-alone novel, too, while a mystery, is so much more than that.
Frank Drum tells us about the summer of 1961 when he was 16. A bit of a scamp, he is in that liminal space between childhood and adulthood, when we move from innocence to a more complicated knowledge.
He's often thrown together with his younger brother Jake, partly because he feels he must protect Jake who has a stammer. They are also somewhat isolated from other youngster their age because their father is the Methodist minister in the small town of New Bremen, Minnesota, and they both firmly believe in their father's religion. Their older sister Ariel is a musical prodigy headed to Juilliard the following year.
As the summer begins, Frank and his family are struggling to come to terms with a death that has been ruled an accident but may be something more terrifying. Frank and Jake, exploring the sand flats where they are forbidden to go, encounter a squatter and notice he has a key piece of evidence in that death. Thus we are unsettled right from the beginning, aware of peril, but unsure whom to trust.
Although told from the distance of forty years, we get a strong sense of what it's like to be 13. Frank pushes his boundaries, struggles with bullies, and fears the tensions within his family. His mother, once a promising musician herself, is a native of New Bremen who thought she was escaping by marrying a lawyer-to-be, only to be thrust back into her stifling hometown as a preacher's wife. Adding to her discontent is her rejection of any kind of religion.
With the summer's events, Frank must also grapple with issues of prejudice and race. He must find his own way through the religious quagmire of bad things happening to good people. And, like many teens, he must suffer those moments of recognising you've made a terrible mistake and those when you must make a difficult choice.
Part of the pleasure of reading this story is the delicate balance between these coming-of-age struggles and the dangerous tensions that bubble up as more deaths ensue. Another part is the subtle way the past threads through these events, exposing unexpected strains and traumas. These stories from before the story add depth and resonance.
Yet another remarkable aspect is the way not only the characters change over the course of the story, but also the way relationships between the characters transform.
Most of all, for me, after several novels in the last few years with vague or disappointing endings, the conclusion here is deeply satisfying. All the pieces come together. We have gone on a journey with these people, a journey that has left me with a full heart.
What novel have you read recently that engaged you emotionally from start to finish?