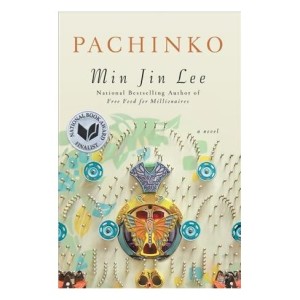 Lee's second novel is a multi-generational saga of a Korean family, beginning in the early 20th century in a tiny village in Yeong-do and stretching through Tokyo and Yokohama to the present, following one family through this tumultuous time in Korean history.
It starts with the arranged marriage of Hoonie, a good-hearted man who is disfigured by a cleft palate and club foot, to a much younger Yangjin and the birth of their daughter Sunja. While selling her mother's kimchi at the market, the naive adolescent Sunja meets Hansu, a rich and powerful older man. Only later does she hear the rumors that he is a gangster.
With a sense of foreboding, we know what will happen next, but Lee makes these characters so individual, so particularly themselves that their story, however often told, feels new. Sunja's stoicism, Hansu's integrity and loneliness keep them from being stereotypes.
I felt this push-pull throughout the novel. Knowing the broad historical outlines often brought on that sense of foreboding. When Sunja and her husband Isak move to Japan to live with his brother, I knew—as they did not—the kind of discrimination they would face. I cringed in a later section when the brother decides near the end of the war to go to Nagasaki to work.
Yet the story engages your mind and heart right up to the end. It's hard for a writer to find the right balance of having bad things happen to your characters and good things. Some experts say you cannot give them too many trials; after all, that's what keeps us reading: to see how they will rise (or not) to each challenge. Yet as a reader I know how easy it is for me to suffer compassion fatigue. Lee finds the right pacing of successes and failures.
What I love about these multi-generational historical novels is the broad sweep of time, the chance to see choices played out in the lives of children and grandchildren, personal choices and historical events. However, this sweep is also a drawback. Moving between characters and across time as we do, we never really stay long enough with any one person to become as deeply invested in their story as we do in a story with a single protagonist.
This book starts slowly, with lots of narrative. I nervously fingered the bulk of remaining pages—485—and worried that I'd be too bored to finish it, even though it was my book club's pick for the month.
Finally at the end of Chapter 2 we get a full scene when Isak arrives at Yangjin's boarding house. As though released from the starting gate, the story takes off from there and held my interest for the rest of the book. What makes the difference is the good mix of dramatic scenes and minimal narration from then on.
As writers we are advised to start when something happens to begin the story—here, Isak's arrival—so I would probably have chosen to begin there and fill in the previous information as flashbacks scattered through the present of the story.
However, in mitigation, I have to add that the first sentence–every writer's bête noir–is magnificent. "History has failed us, but no matter," Lee tells us, encapsulating the entire saga and what we will come to love about the characters.
I'm terrible at coming up with titles. Here, the pachinko game—a popular Japanese form of pinball that is peculiarly addictive—is a perfect metaphor for the capricious blows of fate and the stoicism of simply going on that mark these lives.
The trajectories of the pachinko balls are confined within the box of the machine itself, reflecting another aspect of this story. Much of the tension comes from the characters being constrained by society's customs and politics. For example, in today's culture Sunja's pregnancy might not be the catastrophe that changes her life; without the privations and dangers of rebellions and wars Isak and his brother might continue to prosper; as Koreans in Japan Sunja's sons might actually be able to find work other than in pachinko parlors.
I've always rebelled against society's constraints, throwing myself into the counter-culture in the 1960s, then the women's movement, single parenthood, a career in a male-dominated field. But this story make me realise that the ability to do so in relative safety is proof of my privilege.
What novel have you read set in Korea or helping you understand Korean history or culture?