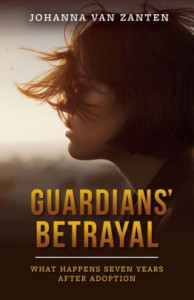 "Reader, I married him." How many stories end like Jane Eyre's with the happy lovers overcoming all odds to be together? There are also many stories of parentless children—orphans, foster children—that end happily with them finally being adopted. But what happens next? The story may end there, but life doesn't.
Subtitled What Happens Seven Years After Adoption?, Van Zanten's new novel explores new territory. Suffering from malnutrition and neglect, sisters Shayla and Abby were adopted by their social worker Bernice Harrison when their mother died. With her background, Bernice was well-equipped to help the girls and her own family, husband Tom and two young sons, adjust to their new family. However, as the story opens, seven years later, cracks are beginning to emerge.
Shayla, now 17, is already suffering from a lack of self-confidence when she gets a message on Facebook from the half-sister she'd forgotten existed. Excited to learn more about her birth family, the two talk often and Anna offers to put Shayla in touch with her birth father.
The story is narrated in the alternating voices of Shayla, Bernice and Tom. Each is struggling to stay above water. Shayla is navigating the terrors of adolescence: mean girls, first love, self-doubt. Sensing that his family is drifting away, Tom becomes involved in an affair with a much younger co-worker. Bernice finds herself suddenly a single parent of four children while trying to juggle Shayla's problems and the other three children's dismay at Tom's defection.
Adding Shayla and Abby's birth father to the mix strains Bernice even further, as she tries to decide whether or how to allow the girls to meet him. Abby, now 13, is not interested, but Shayla desperately wants him to be part of her life. Tom is dismayed at the thought of this man taking his place.
It's a good story, and an important one. Van Zanten writes with authority and compassion for all of them. I appreciate her even-handed approach. There are a few times when the dialogue tips slightly into social-worker-ese, but for the most part is authentic.
Small errors, such as typos or a missing word, detract from the story. Occasionally the pronoun references are unclear, such as an extended scene where Shayla is referred to almost exclusively as "she" with nothing to show that it is Shayla and not either Bernice or Abby who are also present. These minor problems could have been caught by an editor or other outside reader, a good reason for writers to be part of a critique group or have beta readers.
With this unusual and emotional story, Van Zantan reminds me of how helpful it can be for writers to find a new area to explore. Of course, a good writer can make even the most common plot feel new again, but how exciting to find something so original! Anyone with an interest in family dynamics or adoption will enjoy this story.
Have you read a novel with an unusual subject lately?
Disclosure of Material Connection: I received a copy of this book free from the author. I was not required to write a positive review. The opinions I have expressed are my own.