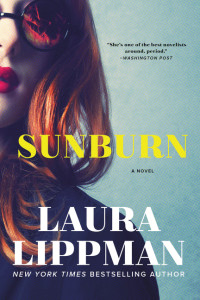 Pauline leaves her family at the beach and returns to their rented apartment to pack her bag. Inspired by Anne Tyler's Ladder of Years, she has decided to simply walk away from her life.
Though Tyler's book isn't named, I knew immediately which one was meant. Who could forget Delia on Bethany Beach, walking away from her family, carrying only a straw tote decorated with a large flower? For all of us overburdened mothers with our unrealised dreams—often undefined even to ourselves—it was as though Tyler had revealed our most secret fantasy. Can you really do that? we wondered.
Lippman takes that fantasy and spirals deeper and deeper into it. What would make a woman leave her husband and three-year-old daughter?
Pauline doesn't get very far. She hitches a ride to Washington D.C. with an elderly man whose wandering hands force her to abandon him in Belleville, a small Delaware town, only an hour away from where she started.
She decides to stay. Introducing herself as Polly, she persuades the owner of a bar/cafe to hire her as a second part-time waitress/bartender. What she doesn't know is that the man sitting at the bar with her that first night is a private investigator hired to find her.
Adam wasn't hired by her husband, who is only that night realising she is gone, but by a shady lawyer whose connection to her in unclear.
Much is unclear, to Pauline/Polly and Adam, and to us. Lippman seduces us, revealing bits of information while spinning out new webs of suspicion. We try to decide which of the stories these characters tell are true and which are lies, even as the characters themselves do the same.
It's like a game of three-dimensional chess. There's what Adam knows and doesn't know, what Pauline knows he knows, and what she doesn't know he knows. Same with Pauline: what she knows and doesn't know, what Adam knows and doesn't know she knows. And then there's the reader. For all our insight into both characters, there's plenty we know we don't know, not to mention what we don't know we don't know.
It all unfolds naturally, the twists and turns easy to follow. The puzzle is embedded in an engrossing story: a love story, a change-your-life story, a mysterious-death story. Adam, Pauline, and the other characters make their moves based on their limited understanding of the others' knowledge and motivations, just as we all do.
I especially liked Lippman's reimagining of the classic noir femme fatale. She pries open the stereotype and takes us on an unexpectedly deep dive into Pauline, her history, her motives, her dreams and weaknesses.
I was also captivated by Lippman's setting this noir tale in the tiny fictional town of Belleville in rural Delaware in the 1990s. True, there are forays into Baltimore and Wilmington, but the confines of a small town add intriguing nuances to the atmosphere. There is suspense for sure, but the book isn't a thrill ride. It's a measured unfolding over the course of one summer of a multi-layered story.
What did you do on your summer vacation?