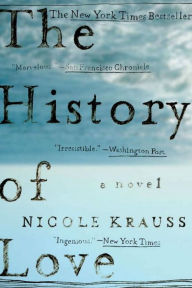 I've learned to be wary of books whose covers are emblazoned with their bestseller status and whose initial pages are filled with glowing blurbs. Already cautious, I came close to abandoning this book in the course of the first long chapter. I call it a chapter, but the book's structure is not so ordinary. The first chunk of print would be a better description.
Here we sink into the consciousness of Leo Gursky, an elderly Jewish man living in a cluttered New York City walkup, who is afraid of dying on a day when nobody sees him. A retired locksmith, he has taken up writing again, a vocation he abandoned sixty years earlier when he fled his village in Poland, just as the Germans rolled in and began gathering up the Jews.
Leo is a sad man, pathetic even, as he deals with physical infirmities and loneliness; his only friend is the peculiar Bruno who lives upstairs. The story Leo starts writing is about the girl named Alma whom he loved back in Poland. The two planned a life together, to start as soon as Leo joined her in New York. However, delayed by the war, by the time he arrives she has given up on him and married someone else.
While the writing is evocative and in places quite lovely, this story and this character did not interest me. Hence, my struggle to keep reading.
But then we branch off into a much more entertaining story about a girl also named Alma, whose ambition is to be able to survive in the wild, as she believes her late father was able to do. She would also like to find someone for her still-grieving mother to love and to persuade her little brother that he is not a lamed vovnik, one of the thirty-six holy men in a given generation, one of whom has the potential to be the Messiah. She tells her story in witty and touching numbered sections, ranging in length from a sentence to a few pages.
Despite Leo's attempts at writing about his village in Poland in the first section, this seems to be the book that Leo eventually began writing. The two stories weave together, and are joined by a third that is apparently that book Leo wrote back in Poland which he thought had been lost, and then by extracts from a couple of other books.
This complicated structure works like a kaleidoscope, the reader's understanding shifting with each turn. I was impressed with Krauss's ability first to imagine such a thing and then to hold it together. I enjoyed puzzling out how all the pieces she was juggling might eventually come together.
Although I admired the structure and the writing, I never felt engaged with the story. Leo as a character didn't interest me. The girl Alma and her brother were more intriguing, but as—I assumed—figments of Leo's imagination, they seemed too far removed for me to care what happened to them. Also, questions about the reliability of Leo as a narrator held me back from connecting with the story.
I love the way Kraus uses small, sometimes contradictory, but always memorable and true-to-life details to build her characters. Often she'll follow a high-flown statement with comic deflation. For example, here is Leo, late for a funeral, trying to catch a bus:
I like to think the world wasn't ready for me, by maybe the truth is that I wasn't ready for the world. I've always arrived too late for my life. I ran to the bus stop. Or rather, hobbled, hiked up trouser legs, did a little skip-scamper-stop-and-pant, hiked up trouser legs, stepped, dragged, stepped, dragged, etcetera.
I'm glad I finished this book. I enjoyed the surprises and the kaleidoscope of reversals. I'd hesitate to recommend it, though, except to those who are willing to forego a story for a dazzling display of writerly prowess.
Do blurbs—the short quotations from other writers or reviewers on a book's cover or first few pages praising the book—help you select a book to read?