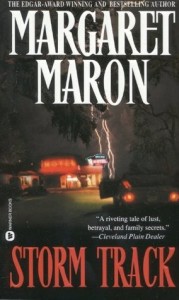 Although I like mysteries and I like to read a series in order, I avoided Maron's Judge Deborah Knott books at first. Mostly this was because of their being set in North Carolina, a place familiar to me but paling in comparison to other mysteries set in Yorkshire, Quebec, Venice, etc. However, the idea of a woman judge as the main character intrigued me, so I dove in. As this is the seventh in the series, you can tell that I'm enjoying them.
In this book, a series of hurricanes are bearing down on Colleton County, far enough inland that they don't usually suffer much damage. Deborah's ruling in a divorce case comes back to haunt her when a woman's body is found at the Orchid Motel, clad in black lace underwear. Lynn Bullock, wife of an up-and-coming attorney was known for having many affairs, so suspicion focuses on her former (and current?) lovers. Among the suspects are Deborah's own cousin.
As the threat of Hurricane Fran increases, various liaisons come to light for Deborah. Remarkably, they are treated without judgment, but rather a sympathy for all parties. Suspense ratchets up along with the storm. Then the killer strikes again.
One of the things I like about these books is the equal real estate given to African-American characters. Unlike so many books that depict only white characters, Maron's stories matter-of-factly present the diversity found in real life. And as in reality, while there are friendships and collegial relationships between the races, there are also tensions and distrust.
Another thing I like about this series is Deborah's family. Her father, the patriarch of the family, was notorious as a bootlegger and political insider, grows in complexity with each book in the series. She is the youngest, with twelve older brothers and half-brothers, some old enough that their children are her contemporaries.
Independent and strong-willed, Deborah occasionally chafes at their casual assumption of care for her—turning up with a kerosene lantern for her, as if she hadn't laid in her own supplies, for example. Yet, they are there with a tractor when needed, or hosting a family get-together. I love when they turn up, each so different yet a comfortable and enduring presence.
An exciting mystery that plumbs the secrets of a small town, this book really shines in its sensitive depiction of relationships—between friends or lovers, between races, between parents and children. Plus it has an outstanding description of living through a hurricane. I'm thrilled that there are many more books in this series for me to explore.
Have you read any of Maron's books? Which is your favorite?