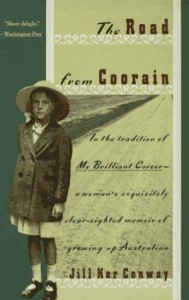 Rereading this bestselling 1989 memoir reminds me of why I enjoyed it so much back then. Conway gives us the opportunity to experience a childhood on a ranch in the Australian outback. She describes the austere beauty of the landscape, the desperate need for rain, the solitude for herself and her parents.
With no children besides her two older brothers within a hundred miles, she relies on her imagination and books for company. Helping out with the ranch work, she learns self-sufficiency and a practical grasp of what's needed in the world. It is this combination of imagination and practicality that sends her into the world in search of education and greater understanding, a journey that will make her president of Smith College one day.
On this reading, I found myself fascinated with her parents in a way I hadn't been before. She describes them as risk-takers, purchasing the land in 1929, not knowing that the drought was not seasonal but would become "legendary", not knowing that the Depression was about to start in a few months. The ranch was her father's dream, but the places he'd worked after returning from the horrors of the Great War were in a part of the country with a more forgiving landscape.
Her mother had grown up in a lush country town and enjoyed her career as a nurse, actually running her own country hospital. Yet she gave all this up to go with her new husband to the new home they named Coorain, an aboriginal word meaning "windy place".
My father, being a westerner, born into that profound peace and silence, felt the need for it like an addiction to a powerful drug. Here, pressed into the earth by the weight of that enormous sky, there is real peace. To those who know it, the annihilation of the self, subsumed into the vast emptiness of nature, is akin to a religious experience. We children grew up to know it and seek it as our father before us. What was social and sensory deprivation for the stranger was the earth and sky that made us what we were. For my mother, the emptiness was disorienting, and the loneliness and silence a daily torment of existential dread.

Had she known how to tell directions she would have walked her way to human voices.
Despite all that, her mother is a figure of strength in Conway's childhood, facing each new setback with courage and action. Her mother encourages Conway to read by asking her to read aloud while her mother works at daily chores, made more onerous by the lack of electricity and running water. Cooking is done on a wood stove even in the brutal heat of summer. Her mother has to be ready to treat snakebite or help fight bushfires.
But three years after the death of Conway's father, she and her mother move to Sydney, leaving a good manager to run the ranch. There, her mother's drive has no outlet and she becomes more and more controlling. Weighed down by grief and anger—she sometimes rages at strange men for daring to be alive when her beloved husband is dead—she begins drinking and her moods become unpredictable. Conway takes refuge in her schooling.
No matter where she travels, Conway never loses her love of her native landscape, though as she learns more, she becomes more critical about the treatment of aboriginal peoples and the ambiguous morality of land ownership.
It's a fascinating story of an earlier time, a place and a culture foreign to me, and yet Conway's experience was like mine in so many ways. My book club all raved about the book, finding Conway's prose beautiful to read and her life inspirational. We want more of this, they said.
Have you been inspired by a memoir about a woman overcoming obstacles, both internal and external, and going on to accomplish great things in the world?