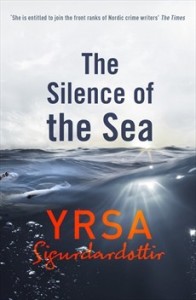 In the middle of a cold night, a luxury yacht appears in Reykjavik harbor on schedule, but instead of slowing down it plows into a pier. When the security guard and three customs officials board her, they find no one on board. There is no sign of the captain, two crewmen and the young couple with two small children who had set off from Lisbon a few days earlier.
As a lawyer, Thóra Gudmundsdóttir is subsequently hired by the elderly parents of the husband. The youngest daughter had been left in their care, now apparently an orphan. The grandparents need to establish that the couple is dead so that the little girl's future can be secured. They also fear that the authorities will take the girl away from them, saying they were too old and not well off enough to care for her. Apparently this is common practice in Iceland. The grandparents hoped that the life insurance would at least do away with one factor.
The atmosphere is suitably chilling, calling up echoes of other ghost ships such as the Mary Celeste. or is there a more rational explanation for what went on and if there could be survivors somewhere. The chapters alternate between Thóra's efforts to discover what happened, belated accompanied by a police investigation, and a narrative of what happened on the yacht through the eyes of Ægir, the young husband.
Thóra must assemble as much documentation as possible to persuade the insurance company that the whole thing is not a scam perpetrated by Ægir and his wife, who have jumped ship somewhere and gone off to lead a new life. One would think that the youngest daughter as a hostage left behind, not to mention the missing crew, would be enough to end that line of enquiry, but apparently not.
Although the book is described as "A Thriller" on the front cover, I found the pace, especially in Thóra's chapters measured, more befitting the PI/police procedural genre that it fits. Meanwhile the initial sense of unease in the yacht chapters accelerates gradually as their situation worsens. This adept handling of pacing is one of the things I appreciated most about the book.
One thing that struck me as unrealistic from the beginning is the behavior of Bella, the receptionist. Thóra and her partner Bragi in the law practice have five employees; the only one we meet is Bella who not only damages office equipment, insults Thóra and tries to sabotage her, but also spends her days using the firm's computer and limited internet resources for her own personal purposes. Then she blackmails Thóra by refusing to tell her information she'd been asked to dig up unless Thóra pays for higher internet capacity, something the partners had decided they couldn't afford. That's when I almost put down the book. She is so astonishingly awful. Who would keep an employee like that? Though it's possible there's something I don't understand about the Icelandic culture that would explain it.
I was also confused about Thóra's home life. I haven't read the previous books in the series, but a man named Matthew is introduced as her partner, which I at first took to mean another business partner as well as her significant other. It's not clear what his profession is; at first I thought banker, but later she seems to refer to him as a doctor. Then there are a three children living with them, two of whom are apparently teenagers who have a baby. It took me way too long to untangle the relationships. This is the kind of information that should be completely clear, even in a series book, and not make us have to reread several times to sort out.
This is a minor quibble, though. Overall, I thought the book presented an intriguing mystery set in a country I'm eager to visit. The ending was abrupt but believable, though it left a couple of unresolved questions. Thóra is an interesting protagonist. I admired the fluidity of the way the people on the ship were presented; their twists and turns increased the suspense. I especially liked the way Sigursdardóttir used our bemused fascination with ghost ships to add to the creepy atmosphere.
Have you read a book set in Iceland?