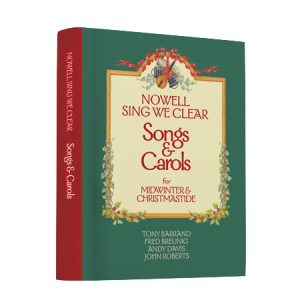 The release of this fantastic resource caps a glorious 40 years of performances by Nowell Sing We Clear—Tony Barrand, Fred Breunig, Andy Davis, and John Roberts. These four traditional musicians toured the Northeast and beyond with a performance of Anglo-American songs and carols of the season, drawing on their backgrounds: Tony and John's English, Fred and Andy's American. (Full disclosure: three of the four have been friends of mine all that time).
Now they've pulled together the band's repertoire in this songbook. It's musician-friendly, containing words and music for the songs and carols we love: wire-bound to lie flat, with chord symbols and harmonies. The extensive background material will fascinate musicians, singers and scholars alike.
Their concerts quickly became a December tradition for many of us, one that we've missed since the band retired from touring after a final concert in 2014. Each concert had the same template, which you'll find in the songbook too. The first half featured music related to the Christmas story, often pub-sing versions of familiar carols, many filled with more directness and energy than the church versions. The second half was devoted to traditional songs of the season, such as wassail songs, visiting songs, the hunting of the wren, and counting songs.
The first half ended with a mummer's play, and sometimes a sword dance. As their Facebook page says: "Performed in the traditional manner, the play is typical of folk dramas which survive to this day throughout Britain and North America symbolizing and portraying the death of the land at midwinter and its subsequent rebirth in the spring." It was always different, with timely quips about current events or politics inserted, bringing guffaws from the audience.
Anyone who loves to sing will enjoy this book that celebrates this season when the light begins to return and many people celebrate the birth that became attached to the ancient rituals. For me, these songs have become such a part of my life for so long that they are inseparable from this season, but even those new to Nowell Sing We Clear will enjoy discovering new and old favorites. My two-year-old grandson's favorite is Kris Kringle with its rollicking chorus.
Check out more videos from their concerts on YouTube. You can purchase the book and other Nowell Sing We Clear recordings here. I have no financial interest in purchases, just a friendly one: I want to bring together the music of my friends and you, my friends who will enjoy it.
Do you love to sing? This book is for you!