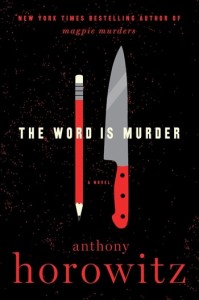 Coming up with a title for the book you've written is surprisingly hard. It needs to be catchy while giving a hint about what the book's about and its genre. The title here, which is a bit of a running joke in the story, certainly meets all three criteria.
This is the first book I've read by the prolific Horowitz, author of the Alex Rider YA series and two Sherlock Holmes mysteries among others, so I wasn't sure what to expect. The one thing I knew about him at first was that he is the creator and main writer for Foyle's War, one of the best TV series I've ever seen. I wondered how that brilliance would translate to a genre mystery.
The answer is that it is unlike any mystery I've read, while still fitting within the conventions of the mystery genre.
What baffled me at the beginning is that our protagonist, our amateur sleuth, is Anthony Horowitz, author of Foyle's War, the Alex Rider series, etc. Anthony is finishing up his Sherlock Holmes mystery House of Silk and ripe for a new writing project when he is approached by a curt and rather intimidating former policeman named Daniel Hawthorne.
Hawthorne has a deal for Anthony: write up the case Hawthorne is working on and the two of them split the proceeds 50/50. I had to laugh. So often that it's become a running gag, writers get people coming up and saying they have a great idea for a story; the writer should just write it up and they'll split the profits.
After initially refusing, Anthony agrees. It is a fascinating case: a seemingly healthy woman goes to a mortician to organise her eventual funeral arrangements and six hours later she is murdered.
The dynamic between the two is fascinating. Hawthorne immediately establishes dominance by calling the writer Tony, even after Anthony says that no one calls him that and he doesn't like it. Hawthorne works as a consultant for the police on this case, and expects Anthony to follow him around and take notes but not participate. He also expects to critique the manuscript. Close-mouthed, he doesn't want to share his thoughts on the case or any personal information. Reluctant to be relegated to the Watson role, Anthony tries to get ahead of Hawthorne in the investigation, with mixed results.
Disconcertingly, Anthony constantly refers to real people, many in his sphere: actors, producers, etc. I was surprised that he would name names: he takes a meeting with Steven Spielberg and Peter Jackson; he recounts an incident with Michael Kitchen; and so on. My writer's mind whirled. Did he get permission or just assumed they are public figures? Would using them poison the well for him as a writer? Did it add to or detract from the story? It's one thing for a novel like Ragtime to refer to real historical figures and another to refer to those still with us.
With all that swarming around in my brain, I still found the story engaging, both the interplay between the two men and the mystery itself. I'm not sure I'd want to read a lot of novels in this style—mixing reality with fantasy—but here I found it refreshing.
Have you read a mystery that stretched the rules of the genre?