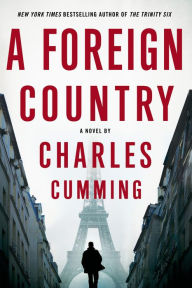 An au pair in Tunisia, involved in an affair with her employer, disappears leaving him heartbroken. Many years later, an elderly French couple on the vacation of a lifetime in Cairo are horribly murdered. Shortly after that, a man given the code name Holst is kidnapped off a Paris street.
While the reader is wondering how these In a seemingly unrelated incidents fit together, we are introduced to Thomas Kell.
A disgraced MI6 undercover agent, he has been out of work for eight months, mostly drinking and feeling sorry for himself when he gets a call from a former colleague. Jimmy Marquand brings Kell in from the cold in secret to find the newly appointed head of MI6 who has gone missing. Kell's initial reluctance disappears when he learns that the person missing is Amelia Levene, someone he was close to.
This book is a great example of creating and maintaining suspense. Cumming demonstrates how to ask questions, answer some while asking more, and repeat again and again. This technique gives the reader moments of satisfaction along with a large helping of uncertainty. We are never completely satisfied until the end, when it all comes together in a tense burst of action.
Another brilliant aspect of this absorbing tale is the cast of characters Cumming assembles to assist—or challenge—Kell's quest. In France, he is first put in touch with Bill and Barbara Knight, retired agents. The portrait of their marriage adds a touch of humor and wry recognition as first one and then the other show strengths and weaknesses through their actions and interactions with each other.
The team Kell puts together are also shown as full individuals, with their own quirks and background. Amelia herself is deftly portrayed as a woman who holds her secrets close. Her careful self-control makes her moments of revelation stand out. Even the villains of the piece and their henchmen are given full-length portraits. Having all these supporting characters fully characterised makes the story feel authentic. Even more importantly, ensuring we understand why they matter to our protagonist makes us interested in them.
One of the things that fascinated me was the characters' relationship with their agencies. You would think that being part of a government bureaucratic organisation would be a binary matter: you either are or are not an employee. Yet many of these characters operate in a liminal area, balancing personal and professional motivations.
All in all, a good read. No surprise, since I've enjoyed other stories by this author. The immensely satisfactory ending gave me a rest from the ongoing suspense of today's political situation. I look forward to checking out the later books in the Thomas Kell series.
What suspense novels have you enjoyed?