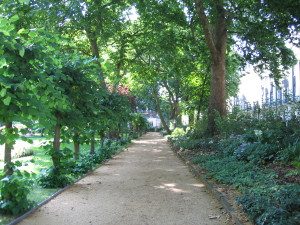 Today is a Significant Day for me, and I am celebrating by going to London.
Not really, of course. With the pandemic restrictions and my own abundance of caution, I can't just hop on a flight. But I can visit one of my favorite cities virtually.
When I go, I always visit the Tate to see the Turners and the National Gallery for the Pre-Raphaelites. I can't explain it, but I am fascinated by the National Portrait Gallery and by the Foundling Museum (though it makes me cry). I always try to get to the British Museum, especially since I usually stay in Bloomsbury. I go to the Royal Maritime Museum and am shocked all over again by the size of the James Caird, the tiny boat Shackleton and a few men used to travel 800 miles in terrible conditions to reach South Georgia Island and get help for his stranded crew. Many of these collections are available online.
My favorite parks are, well, all of them. I try to walk through St. James's Park and visit the Peter Pan statue in Kensington Gardens. I'm partial to the Chelsea Physic Garden and Holland Park's Kyoto Garden. There are plenty of London videos online to supplement my photos from previous visits.
And I always try to go to the theatre. One long weekend I saw five plays, with incredible actors such as Jeremy Irons, Judi Dench, and Alan Rickman–or was that another time? I very much enjoyed the National Theatre Live and Shakespeare's Globe productions that were available online for free last summer. Some shows are still available at both, though you may have to pay for them, but it's good to support these venues. I've enjoyed their shows in London, too. Once the only seat available for Warhorse was in the front row, which gave an astonishing view of the "trenches".
Toast and marmalade for breakfast, a cheese and chutney sandwich for lunch, and fish and chips for dinner should set me up quite nicely.
Road Scholar (formerly Elderhostel) has a wonderful listing of online resources for a virtual tour of London.
But of course books are my ultimate imaginative vehicle, so I'll dip into Mrs. Dalloway, have tea with Barbara Pym's Excellent Women, and see the changing of the guard with Christopher Robin and Alice. I'll tour Sir John Soane's quirky museum again via Christopher Woodwards In Ruins and walk along the Embankment with Elswyth Thane's Tryst.
And of course I'll draw on my own memories for this tryst with a city where I—to my surprise—have always felt as though I have found my real home.
Where are you going today?