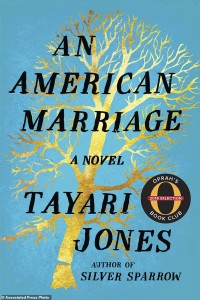 That this novel addresses one of the most important social issues of our time, one that has rarely been explored in fiction, is enough to make it a must-read book. Add to that a smooth prose style, lashings of tension, and well-rounded characters and it's no wonder this book is a mega-hit.
At first it seems like a fairly mundane domestic drama. Rob and Celestial's new marriage is already beginning to show some cracks. Their different backgrounds lead to disagreements about money and ambition, while Rob's wandering eye creates even more tension between the two.
Then the police knock at the door. Oh, by the way, Rob and Celestial are African-American.
A woman whom Rob helped earlier in the day has been raped and identified Rob as the perpetrator. Unexpectedly, the author speeds through the details of the trial and Rob's subsequent imprisonment; this is no polemic, even though it's obvious that Rob is not guilty.
Instead, Jones explores the effect of this violent and unjust separation on the couple. Our expectations continue to be upended, as the narrative shifts from Rob to Celestial and back again before moving to include letters exchanged between the two. We are brought into their marriage and the marriages of their parents in a surprisingly intimate way. I found my sympathies wavering between Rob and Celestial without ever settling on one or the other.
I have been thinking about sacrifice a lot lately, in particular the sacrifices women make as daughters, wives, and mothers. Here, tension swirls around the issue of how much Celestial should be willing to sacrifice to support her husband who has been sentenced to 12 years in prison. The question of what loyalty or duty she owes him is complicated by their being part of a minority that has in certain ways pulled together to survive the discrimination and abuse they suffer.
As one of my friends pointed out in a discussion of this book, one of the strengths of this novel is that it does not take bother to give the white view of the story. For example, we don't learn much about the woman who falsely accused Rob. My friend compared this book to To Kill a Mockingbird with its similar story, but told almost entirely from a white point of view.
Another friend nailed an aspect of the novel that I both liked and disliked. The author's voice seemed to come through nearly all of the characters, making them sound much the same. While that made the book read more easily and one character's point of view transition to another more smoothly, it also made it more difficult to distinguish the characters, to feel I'd really gotten to know them.
In fact, when I came to the discussion three weeks after I finished the book, I had trouble remembering much about it beyond the initial premise of the effect of Rob's unjust imprisonment on their marriage. I think part of my slight disengagement came from the use of the letters that by their nature relate events that happened in the past. Much of the narrative, too, tells of things that have already happened.
But this is a minor concern. The story quickly came back to me as we discussed it, and my appreciation for it deepened as I began to understand better Jones's subtle interweaving of theme and story. An American Marriage deserves all the praise that's been heaped on it.
What bestseller have you read that was even better than you expected?