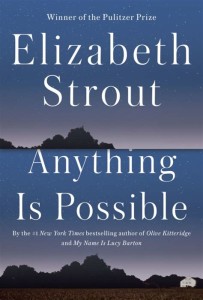 A book by Strout is a balm just now, when we are so traumatised by grief and fear and anger. Yes, she takes us into the terrible crimes human beings, even those in quiet Midwestern towns, visit upon one another, yet she also shows us the complicated people that we are. Without dwelling on the ugliness in the almost pornographic way of many modern novels, Strout evokes in us the emotions of these characters, their trials, their loneliness, and sometimes their quiet redemption.
These nine linked stories build on 2016's My Name Is Lucy Barton, setting them mostly in Lucy's hometown of Amgash, Illinois and populating them with people who know or knew Lucy. Lucy herself does appear in one story, "Sisters", when she takes a break from a book tour to visit her brother, still living—if you can call it that—in their childhood home.
Strout's graceful transitions between the stories take a peripheral character from the previous story as protagonist of the next. Whether they grew up in poverty or not, prospered or not, are loved or not, all are damaged; what saves them is what a character in the previous book calls an "imperfect love".
For example, in "Windmills", Patty Nicely is a high school counselor, widowed and overweight, who had been one of the Pretty Nicely Girls. Hurt by cruel remarks from a students, who happens to be the daughter of Lucy Barton's sister, and from her own mother, who now suffers from dementia, Patty struggles not to reply in kind. She turns to her best friend, but Angelina only wants to talk about her own marital problems. Managing these relationships calls for Patty to find a deeper well of understanding in her soul.
One comfort to her is seeing Charlie Maccauley around town. An older man, married, he interests her, despite Angelina's revelation that he's a Vietnam vet suffering from PTSD. This exchange between the two when they run into each other outside the post office captures Strout's masterful use of dialogue and character description.
Eventually Charlie said, "You doing okay these days, Patty?"

She said, "I am, I am fine," and turned to look at him. His eyes seemed to go back forever, they were that deep.

After a few moments Charlie said, "You're a Midwestern girl, so you say things are fine. But they may not always be fine."

She said nothing, watching him. She saw how right above his Adam's apple he had forgotten to shave; a few white whiskers were there.

"You sure don't have to tell me what's not fine," he said, looking straight ahead now, "and I'm sure not going to ask. I'm just here to say that sometimes"– and he turned his eyes back to hers, his eyes were pale blue, she noticed – "That sometimes things aren't so fine, no siree bob. They aren't always fine. "
I think it is that precision of tone, the words, the details, that keep these stories from being sentimental. There's no mawkish sappiness in Strout's astringent prose. She gives us characters who mean well but are too busy or shy or reserved to listen to someone else or to help them. She shows us how the dark places inside them can make them do horrible things. She surprises us with their strength and compassion and with what summons these qualities.
But no matter what, she always treats them with respect and with understanding. Isn't this in the end what we would like from each other? Isn't this a large part of the healing we're all seeking just now?
People seem to either love or hate Strout's books. What's your reaction?