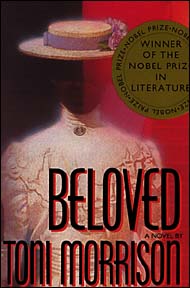 Reading again this powerful book, I was deeply moved. It opens with Sethe and her 18-year-old daughter Denver in a house haunted by a spiteful spirit. After sexual assault and a brutal beating that left her back hideously scarred, a pregnant Sethe had escaped from slavery, making her way to Ohio outside Cincinnati where her mother-in-law lived. Denver was born just before Sethe arrived at Baby Suggs's home, where she'd previously sent her other three children, two boys and a barely crawling girl.
It is that girl, Beloved, who haunts the house, shaking furniture from the walls, overturning the jam cupboard, hurting the dog. Only 21 days after Sethe arrived, the slave catcher showed up with her master and the sheriff. Rather than let them be taken into slavery, Sethe decides to kill her children and herself, but only succeeds in killing Beloved before she is stopped. A young mother myself when I first read the book, I was baffled by this beginning, but grew to understand it better as I read on.
Then Paul D., another slave from Sweet Home, shows up at Sethe's house and drives out the ghost, only to—apparently—have it return in a different form.
I often forget aspects of books I've read (which comes in handy when I'm rereading mysteries), but not with this one. Although it had been quite a few years, having read it before left me free to notice and appreciate other aspects of the book.
For one thing, the way Morrison releases information is a master class in itself. In some instances, information only comes out later because the character doesn't remember it or has worked hard to suppress it. Memory is a prominent theme in the book, its influence and—even when stifled—its inexorable return. In other places, information is hidden because the characters don't know it yet or is mentioned but we don't understand its meaning until later.
I was also interested in how the author handles the flow of time, having just read the fluid narrative of Celestial Bodies. Time here too is fungible, with the past intruding on the present, and not just in carefully transitioned flashbacks, but rather with the immediacy of thought., flitting through layers of memory. Unlike Alharthi's novel, though, it does not flash forward into the future; that remains as mysterious as it is for all of us.
The first time I read Beloved I was too shocked at the vivid depiction of conditions under slavery and its legacy to pay much attention to much else. Not that I was naive about what humans were capable of. I'd followed the Eichmann trial, although I was barely into double digits then, and around the same time stumbled into a book called 100 Years of Lynchings that consisted of reprints of contemporaneous newspaper accounts—a chilling introduction to the horrors of Reconstruction and the Jim Crow era that followed.
But what struck me this time was the lasting effects of slavery, both physical and emotional, the way it shaped African Americans, slaves and free, even their children. The way it shaped white people too. I thought a lot about what that kind of dissociation—the lies you have to tell yourself to be able to own slaves—does to the psyche, how you must have to shut down part of yourself, do away with emotional granularity, and lock yourself in a childishly simple world. I thought about people today who seem like hypocrites to me and wondered if they too live in that simple world and don't even recognise their hypocrisy.
I thought too, as I often have recently, about the wealth of white people, accrued from the stolen labor of blacks, Mexicans and Chinese workers. And I thought about children being taken away from their families at the border and locked in cages and how that's even worse than taking them away and selling them to another slave owner because then at least you have the hope however faint of possibly seeing them again.
We are all haunted by the past. Not just our own, but also that of our parents and grandparents. And not just by what really happened, but also by the illusions peddled by profiteers and our own rose-colored recollections.
Have you read this extraordinary book? What impressed you most about it?