ISBN: 978-0-978925-3-07
Currently unavailable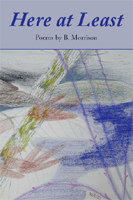 This collection of poems from B. Morrison reveals her journey of transformation. Standing on the threshold of a new life, she examines the past and the world around her for signs in her quest to recreate herself. Calling herself a pilgrim, a pilot and an explorer, she lays aside all that is no longer of use and moves forward into the unknown.
Tao
I stand on a bridge
half a century old
balance carefully on the rail
spread my arms and
lean into the fall.