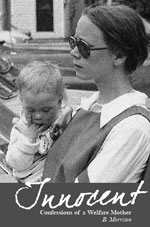 When B. Morrison's marriage dissolved, she found herself with one young child and another on the way, no job, no health insurance, and no child support. Despite a college degree and prior work experience, the pregnant 24-year-old could not land a job to cover the cost of childcare, let alone food, rent, clothing, and transportation. Disowned by her family and abandoned by her husband, she realized that welfare was the only way for her family to survive.
Morrison uses her experiences as a welfare recipient to illuminate a system that demonizes poor people and to explore what actually works to help families escape from poverty. Innocent offers a powerful personal narrative on important social issues. Part coming-of-age story and part immersion in a foreign culture, this book puts a human face on poverty. It is a must-read for anyone interested in social justice, women's issues, or the truth behind the headlines.
"I am grateful to you for sharing your personal story and demonstrating the positive impact that social assistance programs make upon families, communities, and our country. Yours is a vital story to tell."
—Hillary Rodham Clinton, U.S. Secretary of State
"(This) book is a wonderful and moving testimony to the strength and power of women as individuals and as sisters, to change themselves and their worlds."
—Marita Golden, author of After, Migrations of the Heart: An Autobiography, and Saving Our Sons: Raising Black Children in a Turbulent World.
"Barbara Morrison writes with insight and compassion about her plummet into poverty and her climb back up. The memoir is a story for now."
—Carol Brennan, author of Headhunt, In the Dark, and Full Commission.
"Ms. Morrison eloquently refutes the notion that there is a 'typical' welfare recipient. With compassion and moxie, she pulls back the curtain and shows us a more complex picture."
—Mark Vidor, Assistant Director for Family Services, Department of Human Resources, Baltimore County Department of Social Services
Winner IPPY Bronze Medal for Regional Memoir/Autobiography
Finalist ForeWord Review's Book of the Year for Memoir/Autobiography
Finalist USA Best Book Award for Memoir/Autobiography
Honorable Mention New England Book Festival for Memoir/Autobiography
Innocent book trailer
(YouTube video)
B. Morrison speaking about Innocent at the Gaithersburg Book Festival
(C-Span video)
Resources in the Baltimore Area for those in need:
Community Assistance Network provides programs to help low-income families move toward self-sufficiency. Some of their programs include Financial Assistance, Budget Counseling, Transportation Asssistance, Housing Assistance, Job Readiness Programs, Food Pantry, After School Drop-In, Community Service Opportunities, and Nutrition Workshops.
Suited to Succeed provides free work clothes for women transitioning out of poverty.
Wishlist Depot provides school supplies to students living in poverty. Teachers from designated schools with at least 70 percent of their students enrolled in the federal free and reduced lunch program are invited to shop free at the Wish List Depot Free Store.
ShareBaby provides clothing, equipment and supplies for children under the age of five to homeless and domestic violence shelters. They are also opening a diaper bank, called DiaperSHARE, in Baltimore which will provide diapers, wipes and diaper cream to the needy.
Make Studio provides arts programming to individuals with disabilities.
Civic Works provides real world, Baltimore-based job training that prepares our program participants for employment.
Come Home Baltimore builds beautiful homes and strong communities. They are committed to addressing Baltimore's vacant housing crisis by renovating pre-existing housing stock and bringing families back to Baltimore City.
The Parks and People Foundation supports a wide range of recreational and educational opportunities, creating and sustaining beautiful and lively parks, and promoting a healthy natural environment for Baltimore.
All of these nonprofits welcome your donations.
Government resources include:
Vacants to Value is dedicated to getting more of Baltimore's vacant and abandoned properties cleaned up and redeveloped more quickly, efficiently, and economically.