ISBN: 978-0-9789253-2-1
$13.00 + $2.00 shipping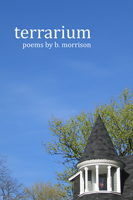 In this new collection of poems, Morrison explores the influence of place: where you live, where you grew up, where you travel, where you go in dreams. She seeks out the haunted places of her youth, piecing together memories, as she looks for a way forward through the maze of the present. Echoes of the past find new meaning as Morrison explores the meaning of home.
"Barbara Morrison's poems take readers to new, yet somehow familiar, places."
—Gregg Wilhelm, Executive Director of the CityLit Project
"From its opening poem, Morrison's new collection reaches deep into hidden places that both nourish and frighten us."
—Laura Shovan, author of Mountain, Log, Salt and Stone
"Barbara Morrison does what we all wish to do: say it clearly and make it beautiful—all the old wounds that psychiatry leaves ragged and unfinished, poetry mends clean and whole. That's the most precious gift and that's the strength of Morrison's writing."
—Grace Cavalieri, award-winning author of 16 poetry books and chapbooks and radio host of "The Poet and the Poem" from the Library of Congress, in the Washington Independent Review of Books.
Honorable Mention 2015 New England Book Festival for Poetry