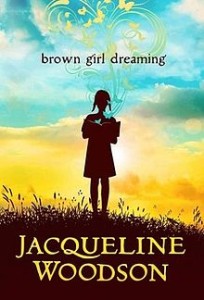 Woodson's memoir in verse invites the reader into her childhood. Reading these poems felt as though Woodson and I were leafing through a photograph album while she told me about these people and places.
Her family's story, like so many of ours, is a fractured one, with lots of moving around and relationships that fall apart due to death and divorce. Being people of color during the 1960s and 1970s adds further complications. Still, there is a strong current of love and security holding the family and their story together.
In "home" she writes of being taken as a newborn to meet her grandparents in South Carolina. She describes the porch, the azaleas, the red dust on her mother's shoes. Then:
Welcome home, my grandparents say
Their warm brown
arms around us. A white handkerchief,
embroidered with blue
to wipe away my mother's tears.
And me,
the new baby, set deep
inside this love.
This book has won several awards, including the Newbery Honor, and was chosen as the 2017 book for Vermont Reads. While it falls in the children's book category, it appeals to adults as well.
The title tells you all you need to know about the book to entice you into reading it. While being a perfectly straight-forward description of what the book is about, the title also gives you an idea of how the story will be told. The reversed syntax is intriguing, and the startling use of "brown" let's you know that we are going to sidestep stereotypes about race and speak plainly .
Here's the opening of "rivers":
The Hocking River moves like a flowing arm away
from the Ohio River
runs through towns as though
it's chasing its own freedom, the same way
the Ohio runs north from Virginia until
it's safely away
from the South.
Most of all, the compression and music of these three words place you in the realm of poetry. It's had to resist hearing the echo of the opening of Langston Hughes's great poem "Dream Deferred":
What happens to a dream deferred?
Does it dry up
Like a raisin in the sun?
As I've mentioned before poetry works well for memoir because of its fragmentary nature. Gathering poems together in a collection such as this doesn't create the same sort of linear narrative as a prose memoir.
For me, finding that narrative was the hardest part of writing my memoir. Life does follow a neat narrative arc. When we're in the midst of it, our life seems chaotic and subject to chance; it's only later that we try to impose some sort of coherent story out of it. Thus, capturing the past in individual poems And it actually reflects how memory works: it throws up a scene seemingly at random, and we are left to make sense of it.
Then the challenge for the poet is to find a way to make these fragments of memory, these separate scenes hang together without the usual transition tools. Woodson accomplishes this with deceptive ease. Arranged chronologically, the poems sometimes also reach back to tell stories of her parents and siblings and other family members.
This is a book that all ages will enjoy. One of the great benefits of reading is the opportunity to step into another person's life and see the world through their eyes. I'm grateful to Woodson for her gift of her story, much of which reminded me of my own childhood and even more that helped me understand another kind of experience.
Does your state choose a book each year for everyone to read and discuss? If so, which book was chosen this year?