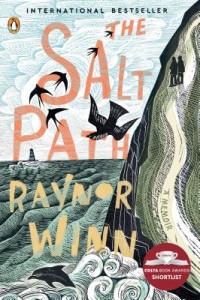 I was talking with some writers the other day about evoking emotion in our readers, and one asked if there could be too much emotion in a book. The incredible teacher/agent/writer Donald Maass, author of The Emotional Craft of Fiction, would say no; the problem is almost always that there isn't enough.
Yet it's true that sometimes I don't have the emotional stamina for a particular book on that day. Sometimes what I need is something from what Dave King calls the gentle genre.
When I first heard of this memoir, I knew I had to read it. When Raynor Winn and her husband Moth lose their beloved Welsh farm, the one they've devoted decades to restoring and working, where they brought up their now-grown children, they are devastated. The long court battle to prevent their former friend from seizing their farm, lost finally on a technicality, has emptied their savings. No home, no job, no savings. In their 50s, being self-employed they have no work references, and after the court case no credit. Then they learn that Moth has a terminal illness. He might eke out a couple of years of increasing disability.
Winn writes so movingly of leaving the farm, choosing what few keepsakes to hang onto, unable to lean on their children who are in school or starter jobs that I was overwhelmed. I've been there myself: empty-handed, with no choice but to turn to a frayed social safety net. Yet right now, with so many griefs and losses and fears in real life, I wasn't sure I had the stamina to go through this with her.
Yet I had to read it. Homeless, their temporary solution is to walk the 630-mile South West Coast Path, which winds around Somerset, Devon, Cornwall and Dorset. They will have to sleep wild since they don't have money for B&Bs or campgrounds, and they will have to subsist on minimal food bought with the £48 a week tax benefit that is their only income.
I walked part of this path with friends a couple of years ago and found it challenging enough, even with B&Bs and luggage transfer. So I had to know how they managed, what they encountered, how they were changed.
And they are changed. Winn doesn't sugarcoat the difficulties, yet finds space to describe the glories of the rocky headlands, the cliffs, the surging sea, the gulls and oystercatchers, the badgers and deer. The writing, like the path, is spare and occasionally glorious. She and Moth encounter quirky and often generous people on the path. And they find, as I did on a much smaller scale, that they are stronger—physically and emotionally—than they thought.
Their story moved me to tears. I cried at the beginning and at the end, for different reasons, filled with different emotions. Too much emotion? Not at all.
Have you read a memoir that taught you something about yourself?