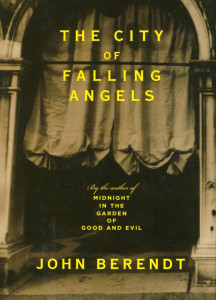 Although I've traveled to Italy several times, I've never been to Venice except in my imagination. I may never get there, given its fragility. Yet this third nonfiction book set there actually makes me feel as though I've wandered its narrow streets, listened to the lapping water of the canals, and chatted with the people who live there. The biggest reason for this is Berendt's captivating prose and the people and their stories he brings to life. I found the endpapers helpful too, with their map of Venice marked with locations from the book.
Berendt, best known for Midnight in the Garden of Good and Evil, arrives in Venice three days after a fire destroys the historic opera house La Fenice on 29 January 1996. His vivid description of the fire draws on first-person accounts, notably that of eight-six-year-old Archimede Seguso, a master artisan of glass sculptures. His family's home is just across a small canal from the back of La Fenice, but after testing the wind direction Seguso decides there is no danger and they stay watching the mostly wooden structure burn.
Of course, I couldn't help thinking of Notre Dame in Paris, which like La Fenice was undergoing restoration at the time of the fire. How much harder to fight such a fire in Venice, especially since the canal behind the opera house which would normally be used as a source of water by the firefighters had been drained for dredging.
The story of La Fenice runs through the book, the swirling rumors and recriminations, the false starts and failures in rebuilding. Meanwhile Berendt shares with us the other stories he pursues, such as the controversy around Ezra Pound's papers, said to have been misappropriated by a couple, unconsciously replaying Henry James's The Aspern Papers, a novel set in Venice.
The author finds people who share extraordinary stories with him, such as this one about Peggy Guggenheim, the last owner of the Unfinished Palazzo: "'Peggy was notoriously stingy. She hired the city's corpse collector as her gondolier, because he was available at a better price. She didn't seem to mind that he serenaded her with funeral dirges and that he was very often drunk.'"
We meet many fascinating present-day (the book was published in 2005) people as well, such as a young man who desperately wants to preserve his family's life in Palazzo Barbaro, even as the Venetian law that inheritances must be split equally among siblings (one of whom spends his time watching replays of space launches and composing a national anthem for Mars) means they must lose most of it. We meet a man who shares his theory for successful rat poison, which has made him fabulously wealthy, and an elderly aristocrat who is "writing a book proving the existence of reality! It is already two thousand pages long."
Best of all, we get a sense of how things work (or don't) in Venice. One person tells the author, "Everything is negotiable in Venice. I mean everything . . . even jail terms . . . You should even get to know a taxi driver, too, because otherwise the rates can be horribly expensive." Another points out that the murky end to the investigation into the fire is the perfect ending: " 'an unsolved mystery . . . It stimulates the imagination, gives people the freedom to make up any scenario they want.'"
That last is a little unsettling given the current climate in the U.S., but the advice Berendt is given at the start of the book sets the tone for his experience: "Everyone in Venice is acting . . . Venetians never tell the truth. We mean precisely the opposite of what we say.'" And if that makes you think of the Liar's Paradox, then welcome to Venice.
Is there a place you've always wanted to visit? Have you read a book that seemed to put you there?