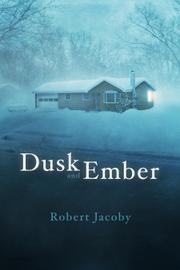 Jacoby's latest novel is a deep dive into the tumultuous and incandescent mind of nineteen-year-old Richard Issych. Though set in Cleveland in 1980 and 1981, Richard could be any young man today, spat out from the ugly and boring, but known, world of high school into a baffling world of choices he's not prepared to make.
College doesn't seem to be one of those choices, despite his grades. For a working class boy, college was not an automatic possibility in 1980 and isn't today. His parents, a fireman and homemaker, had never been to college and didn't push it, but they are quick to inform Richard the day after graduation that he has to get a job and pay rent. He has no idea how to look for a job or what he might want to do.
The store where he bags groceries has no full-time work for him, so he quits. At his mother's suggestion, he drives around to factories and fills out applications. Eventually he gets hired to work third shift at a tool and die factory. It is there that he meets and comes to know the men who fill this story, a heterogeneous collection of men drawn to work through the night. Some are cocky and brash, while others are damaged or careful, yet all are independent, the way you can be in the darkness.
As the story opens, Richard is about to go to the funeral of Melvin, the man he worked with most closely, shot by Dale, another co-worker. His mind is in turmoil as he struggles to grasp the reality of the death, of his role in it, and the motives of the two men he thought he knew. So much of our lives is hidden from each other, something Richard is well aware of.
In school he mostly kept to himself, with two friends who drift away after graduation. Inside, though, he boiled with questions and still does. He cannot see his life. On graduation day, "Richard woke with despair and dread, with the sensation of being disemboweled, reckoning the day." He knows he doesn't want a life with his parents. He sees other boys with girlfriends, but has no idea how to have that for himself.
Thoughts of suicide, escape from the pain of a life without meaning, curl around his brain, as they have for years. Death to him is a rest. Except that now he must look it in the face, in Melvin's face.
We have many stories of the plight of young men of color who see few opportunities before them, armed only with the shreds of a poor education, surrounded by drugs and the crime they bring, burying their young friends. Recently, though, in the wake of school shootings, we have begun to probe the minds of young white men, often working class like Richard, with even fewer opportunities than he had in 1980, now that most of the factories have closed or automated or moved overseas.
In the memoir Hillbilly Elegy, Vance rails against some of his contemporaries for being violent and unwilling to work, and instead embracing welfare dependency and drug addiction. The young men in this book—Melvin is only 26 when killed—do show up for work, but most rely on drugs of one kind or another to make it through the night. With his job, Richard has stepped into another world, one where he envies the self-assurance of his new friends, but is disgusted and scared by the violence of their lives and the shabbiness of their relationships.
While there are lyrical moments, sometimes the stream-of-consciousness of Richard's fractured and repetitive thoughts is hard to read and allows the tension that keeps us reading to leak away. I enjoyed most the scenes that make up the bulk of the book, either Richard alone or with others. The characters are well-drawn, and there is just enough of the settings—the factory, Richard's bedroom, party houses, etc.—to create effective atmospheres.
I met the author years ago at a writing conference and have followed his career ever since. I reviewed Jacoby's first two books. Here, he has done what writers are encouraged to do: "to peel our own layers back until we reach that tender, raw, voiceless place" where the strongest stories come from. This powerful story of a young man wrestling with the most essential and existential questions will touch anyone who remembers that terrible time when the world opens up in front of you and—paralyzed—you have no idea what to do.
What story have you read that brought back long-buried memories of your youth?
Disclosure of Material Connection: I received a copy of this book free from the author. I was not required to write a positive review. The opinions I have expressed are my own.