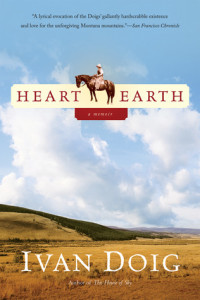 As children, we find it hard to imagine that our parents had lives before we were born. However, as we grow into the ages at which we knew them, it's not uncommon for us to wonder what our parents' lives were like, what they felt, what they dreamed. Perhaps we compare ourselves to them at the age we've now gained. Perhaps we use our own experiences and insights to illuminate what once seemed so mysterious.
Ivan Doig was hampered in doing this by his mother's death from asthma when he was only six years old. His slim memories of her didn't stretch very far. That changes when he inherits a collection of letters from his mother to her brother Wally while he was stationed in the Pacific during the last months of WWII. Doig was estranged from his uncle, something he regrets now that Wally is gone, so was unaware of the letters.
His mother's words not only anchor his own memories, but give him a rare insight into her thoughts and feelings. This poignant and lyrical memoir, a prequel to his memoir This House of Sky, traces what he knows of Beneta Ringer Doig's short life combined with his own recollections as they move from a ranch in Montana to a factory boomtown in Arizona and back again.
His evocation of the harsh reality of life in rural Montana combines love for the rugged beauty of the landscape with respect for the grit and determination of its people. The area is only just beginning to recover from the Great Depression, not yet sharing the wartime economy. They move to Arizona hoping the desert air will help Beneta's asthma and the work improve their financial outlook.
I love the way Doig combines the larger picture of what is happening in the country with his own family's experiences. His memories of playing war in the dusty factory town and drawing pictures of airplanes and Uncle Wally's ship remind me of my own childhood a decade later. As writers we sometimes forget to include the social context of our stories, the political and cultural trends that help form our characters. This memoir is a good model for how to do that well.
I love, too, his description of his parents' relationship, filtered as it is through his child's eyes, family stories, and now his mother's own words. They move back to Montana, hoping a higher altitude will help her asthma, and dreaming grand dreams of finally succeeding at making the land pay off. Their struggle reminded me of Laura Ingalls Wilders's family fifty years earlier each year looking ahead to finally getting a good wheat harvest to pay off their debts.
Part of why I enjoyed this audio book so much is that it is narrated by Tom Stechschulte, one of my favorite narrators, not only because of his laconic yet engaging voice, but also because his accent reminds me of my friend Frank. I relaxed into the rhythm of his speech, barely noticing the sometimes overwritten passages that might have bothered me if I'd been reading the book.
I think I'd still have enjoyed this portrait of family life in a particular time and place. I would also have loved the portrait of Beneta, a lively, determined and passionate woman whose steadfast spirit seems to capture all that is best in our image of the American West.
What memoir have you read that vividly captures a time period through the lives of ordinary people?