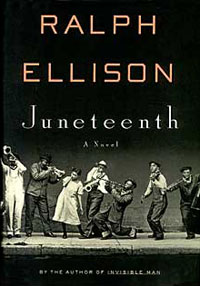 In the 1950s Reverend Hickman, an elderly black preacher, brings members of his congregation to Washington D.C. They attempt—unsuccessfully—to visit white Senator Sunraider, an outspoken racist, and are in the Senate chamber when he is shot.
As Hickman sits beside the critically ill senator's hospital bedside, he remembers the man's past as the child called Bliss whom the preacher had raised. Hickman had been first a trumpet-playing jazzman and then a minister, but he'd always raised Bliss as part of the black community despite his white appearance. Eventually he trained Bliss to preach alongside him. Sunraider himself remembers differently, when he's not trying to bury those memories. After running away, Bliss rejected the past and reinvented himself first as a filmmaker and then as a politician.
Their thoughts gallop and pause and race on, with a dazzling drive that makes it hard to tear yourself away. Unforgettable scenes are set and hearts opened in language like a mighty river, gorgeous and terrible. Here is an excerpt from a scene Bliss/Sunraider remembers of an encounter with a young woman during his movie-making days (ellipses are part of the text):
. . . And I could tell you how I drew her close then and how her surrender was no surrender but something more, a materialization of the heart, the deeper heart that lives in dreams—or once it did—that roams out in the hills among the trees, that sails calm seas in the sunlight; that sings in the stillness of star-cast night . . .
Much of the drive comes from the rhythms of jazz and the oratorical fire of the pulpit embedded in the language. Here is a portion of a remembered service that features a call and response between Hickman and young Bliss after the older man has described the "floating coffins" that yet were Christian ships bringing them out of Africa (emphasis and ellipses are part of the text):
Amen, Daddy Hickman, amen. But now the younger generation would like to know what they did to us when they got us here. What happened then?

They brought us up onto this land in chains . . .

. . . In chains . . .

. . . Into the fever swamps, they marched us . . .

And they set us to work draining the swampland and toiling in the sun . . .

. . . They set us to toiling . . .

They took the white fleece of the cotton and the sweetness of the sugarcane and made them bitter and bloody with our toil . . . And they treated us like one great unhuman animal without any face . . .

Without a face, Rev. Hickman?

Without personality, without names, Rev. Bliss, we were made into nobody and not even Mister Nobody either, just nobody. They left us without names. Without choice. Without the right to do or not to do, to be or not to be . . .
This is a story, then, about time and memory, about history and the wounds of the past. It is a story about the difficulty of communication. We have lavish access to both men's thoughts and memories, but their actual dialogue in the hospital room is strained and limited. It is truly a Great American Novel, addressing the great American Wound, sparing nobody.
This book was a lot more coherent and easy to read than I expected. Ellison had been working on this second novel, following his popular and National Book Award-winning Invisible Man, from 1953 until his death in 1994. But Ellison struggled to find the right structure for his magnum opus, deleting, rewriting, and adding to it to the point where he thought it might actually be three books.
His literary executor John F. Callahan took on the monumental task of sorting the disorganised mass of material for what Callahan calls "a mythic saga of race, identity, language and kinship in the American experience." From hundreds of pages of Ellison's notes and excerpts Callahan selected the story of Reverend Hickman and Bliss/Sunraider as the part that best stands alone.
Their story holds the possibility of healing, not just of the rift between the two men or the gap between past and present, but what separates us all.
Have you read this astonishing book? What did you think of it?