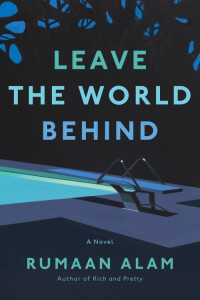 This highly praised novel was my book club's selection for this month. A well-to-do white couple vacationing in a rented home in the Hamptons with their two teenaged children hear a knock at the door late on their second night. They open to find a middle-aged black couple who say they are the owners of the house. G.H. and Ruth say that while they were out for the evening in New York City there was a massive blackout covering the whole Northeast, and they were afraid to try to return to their apartment.
They thought they'd be safer coming to their home in the Hamptons. Of course there is no way to check their story. Although considering themselves liberal, Amanda and Clay are suspicious, even when G.H. offers to refund their money if he and Ruth can stay in the basement mother-in-law apartment until the blackout is over.
That negotiation is an incredible piece of writing. The author captures nuances of behavior, such as G.H. holding up his hands "in a gesture that was either conciliatory or said Don't shoot. By his age, black men were adept at this gesture." We are in Amanda's point of view and she is far more suspicious than her husband, suggesting they might be the handyman and maid come to rob them. She feels ashamed for thinking that, but not for the thought that goes with it: "those people didn't look like the sort to own such a beautiful house."
I was immediately reminded of an incident when I lived on the edge of a wealthy neighborhood that decided to hire its own security force to supplement the city's police. One of their first actions was to arrest an older black man coming out of his home in his pajamas and slippers to get the morning paper. He didn't look like the sort of person to own a house in that neighborhood.
Alam's novel shifts gears several times as the situation worsens. Strange things begin happening, signaling that the problem is more than just a blackout. We cycle between different characters' points of view, adults and teens.
Unfortunately, while G.H. and Ruth are presented as finely drawn, complex characters, the white family are superficial and implausible. It's not that there aren't people like them, but real people are far more complex than these sitcom-type characters. I had to chuckle. Turnabout is fair play, of course. How often have white authors written black characters as simple stereotypes?
Yet it made the story seem more like a fairy tale than something that could really happen, which is a shame since the themes are important ones: how can we find ways to get along, how can we cope with the crisis that seems closer every day.
The book is certainly suspenseful, as everyone in my book club agreed. Yet most of us were disappointed that it didn't go deeper. As drawn, the white characters are such easy targets. I would have loved to see more of the nuanced writing that was displayed in that night-time scene.
What is your book club reading?