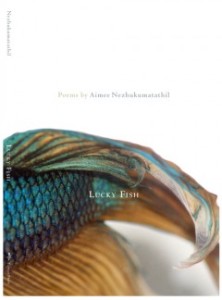 True confession: I bought this book for its cover. Not knowing much about graphic design, I took advantage of an AWP (Association of Writers and Writing Programs) conference to wander through its sales hall where a couple of gymnasiums full of publishers displayed their books. When a cover caught my eye, I started a conversation with the representative staffing the table about why it was so intriguing (I'd chosen a slack time so as not to inconvenience them).
Tupelo Press, the publisher of this collection, Nezhukumatathil's third, had quite a number of outstanding covers. And their representative was generous with their knowledge.
But it's the inside of the book I'm here to talk about. Nezhukumatathil draws on her Indian-Filipino heritage, her Florida childhood nurturing recalcitrant citrus trees, and her husband's Kansas farming experiences to create these poems. She writes about two-headed calves, made-up folk remedies, fables and families. She writes about love in fresh yet simple ways, such as this excerpt from "Suppose You Chopped Down a Mulberry Tree":
I know a man who has such a sweet face,
bees follow him down the street. Ants still collect

in the tread of his shoes.
Many of the poems are a luscious cornucopia of images. The author doesn't hold back, but sprinkles them liberally throughout, often in surprising combinations that still work. Here's the beginning of "Fortune-Telling Parrot":
I will pick
a black card

of luck for you;
star, pinkmoon,

mirror, ostrich, eye,
and jasmine bloom.
How does she do it? What a remarkable imagination!
In the third part of the book the poems are about giving birth, speaking simply and directly about this most fundamental experience, yet incorporating whimsical images and strong emotion. She imagines her baby born with a hedgehog resting in its hand and how that might play out. She speaks of the small moments every new mother will recognise, such as in "Waiting for Him to Speak" where she notes that "his hair // is the tobacco hue of an owl feather." She worries about whether the baby will latch properly, thinking that "if she thought to wear the silver anklets her Indian grandmother gave her, at least there would be happy bells."
But she doesn't shy away from the larger world, writing about the Chinese children assembling her child's toys. In other poems throughout the book there is a welcome astringent note within the sweet and magical songs. In these specific and sensual poems, whether about the taste of soil or the sound of the stone found in an eel's head, Nezhukumatathil captures the universal and invites us to share the celebration.
Have you read any poems that overwhelmed you with their richness?