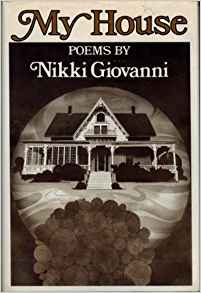 This month my poetry discussion group read and discussed the work of Nikki Giovanni, one of my first favorite poets. It was a joy for me to reread her work, including this collection from 1975. We all were delighted by her sly sense of humor and her true-to-life portraits of people and places. We appreciated the way she sometimes uses these gifts to open up political and social issues in a down-to-earth way.
Some of the poems we particularly liked take an everyday occurrence, use vivid language to draw us in, and then at the end open up into something larger. An example is "Legacies" where a grandmother calls a girl in from the playground to teach her to make rolls. The girl can't express her reasons, which have to do with foreseeing the old woman's death, so she says:
"i don't want to know how to make no rolls"
with her lips poked out
and the old woman wiped her hands on
her apron saying "lord
these children"
and neither of them ever
said what they meant
and i guess nobody ever does
Giovanni captures family dynamics with subtle accuracy. In "Mothers" she describes going home to visit her mother and how they "kissed / exchanged pleasantries / and unpleasantries . . ." and the encounter calls up a memory from childhood:
i remember the first time
i consciously saw her
we were living in a three room
apartment on burns avenue
We were fascinated by this and talked at some length about consciously seeing your mother, about the moment when a child recognises and acknowledges another as a person, when, as Sartre describes, she realises that what she saw as another object (which he calls "being-in-itself") in the world is actually a subject (or "being-for-itself").
The poem goes on to describe her mother sitting in the darkened room.
she was very deliberately waiting
perhaps for my father to come home
from his night job or maybe for a dream
that had promised to come by
I couldn't help but think of Faith Wilding's amazing poem "Waiting", first performed in 1973. But Giovanni goes in a different direction. Her mother calls her over and teaches her a little poem about the moon, and Giovanni ends with an intriguing and profound reversal:
i taught it to my son
who recited it for her
just to say we must learn
to bear the pleasures
as we have borne the pains
Giovanni has written many children's and young adult books, so it's not surprising that some of her poems speak in a child's voice, capturing so well a child's outlook. One in this collection is the short but lovely "Winter Poem".
Once a snowflake fell
On my brow and I loved
It so much and I kissed
It and it was happy and called its cousins
And brothers and a web
Of snow engulfed me then
I reached to love them all
And I squeezed them and they became
A spring rain and I stood perfectly
Still and was a flower.
I'm reminded of this poem whenever the two-year-old I care for squeezes the cat because he loves her, not remembering that she is fragile and could melt like the snow.
Do you have a favorite poem by Nikki Giovanni?