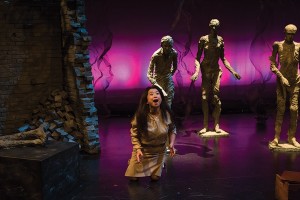 Not a book this week, or rather a production that started as a book. In 1996, Romanian poet Marin Sorescu died of liver cancer. Earlier that year he had been nominated for a Nobel Prize in Literature, and he did not stop writing after his diagnosis. In the last five weeks of his life, he wrote a searing collection of poems, later published as Puntea (The Bridge), much of it dictated to his wife, Virginia.
Taking these poems as his libretto, composer Michael Hersch created On the Threshold of Winter. It is a monodrama, that is, an opera for one voice. I heard it performed by soprano Ah Young Hong and the NUNC ensemble conducted by Tito Muñoz.
I not only heard it, I drowned in it. This stunning performance seized me from the start and immersed me in its tides of emotion. I was swept up in these last cries of grief and despair and anger and longing. Pulled this way and that, repeatedly ratcheted up and released, until reduced to the final letting go, the quiet liberation.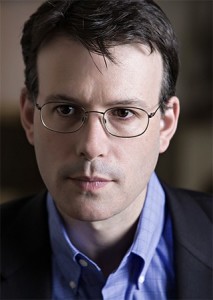 Hersch's works have been performed around the world by acclaimed conductors with major orchestras and chamber ensembles. He also teaches composition at the Peabody Institute, where Ah Young Hong also teaches voice. Hong's performance was astonishing. I cannot begin to calculate the physical and emotional strain of singing and enacting such a strenuous role for two hours. She received a well-deserved standing ovation, sustained for some time through repeated curtain calls. The audience simply would not let her go.
Full disclosure: I am acquainted with Ms. Hong. But I defy anyone to experience such a performance without being overwhelmed with awe and admiration at her achievement.
But let's get down to business. I had not previously encountered these poems, but reading over the libretto before the performance I was horrified on Sorescu's behalf to read that Hersch had broken them apart and rearranged them. After some thought, though, I realised that such intervention was needed.
A monodrama—or any other theatrical production—calls for a drastically different structure from that of a poetry collection. Hersch repositioned the fragments of poems to create a sustained narrative, with rising and falling action, with dramatic scenes, with a resounding climax. And we still get the power and beauty of the lines (from the translation by Adam J. Sorkin and Lidia Vianu), such as these:
I balance on something frail . . .

Blasted apart by the spasms
Of a fierce whirlwind
A bridge between nothing and nothing
I have not asked to cross.
I'm not a musician, so I cannot comment on the music, though it certainly supported and enclosed the singer and the song, as one dancer supports another through intricate lifts and catches her when she leaps.
I do want to credit the stage director: James Matthew Daniel. The imaginative set, while spare, gave the solo performer much room for action. Large erections of scaffolding were hung with fabric and plastic. Ms. Hong at times climbed them or arduously pushed them into new positions. Statues, a bed, flowers, and a few other bits and pieces each served its purpose.
Ms. Hong's costumes enhanced the role. Starting with an enveloping hooded bathrobe, each change revealed a bit more, even as the character's last self was stripped as she approached the end.
When we write, we are limited to the page, hoping to evoke in readers the kind of sounds and visions delivered directly by a stage production. But there is much to learn here about pacing and setting and blocking and how to use such a limited palette to stun your audience.
What stage production have you seen recently that knocked you sideways?