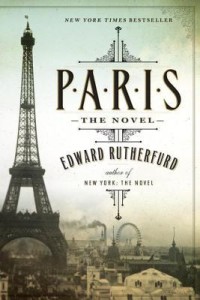 In my virtual travels this winter I've most recently been in Venice; before that I was in Paris for several weeks. Rutherfurd's book had been on my shelf for a long time, so that was a great opportunity to read it.
Like his other books that I've enjoyed, London and Sarum, this big book follows a handful of families from the earliest days of the city (here 1261) to the modern day (1968). The families vary: thieves, nobles, merchants, craftsmen. As they act and interact, we get to know the history of Paris itself, highlighting important events but more importantly taking us into their daily lives. We walk the streets with them, navigate the surge of Protestantism, mount the barricades, help build the Eiffel tower, hide a downed RAF pilot.
There's a Jewish family that includes a physician, an antique dealer and an art dealer, through whose eyes we see the shifting political and social winds that dictate their lives, seeing the effects on individuals as tolerance veers into pogroms.
There are Brits and Canadians, tying France to the Western world and introducing the effects of immigration. There are country houses and political refuges that bring in regions outside the city.
I loved getting to know the city, relying heavily on the maps in the front of the book (as well as the family trees). Never having been there, I was always a little unclear about the geography, but now I have a good sense of it. It was also fascinating to see how the character of individual neighborhoods changed over the centuries. The Marais, for example, housed the Templars starting in 1240 which led to many churches also being built there. Royal palaces and aristocratic mansions proliferated. After the French Revolution, though, with the nobility gone, the mansions deteriorated and the area became home to Jewish and working class families. The Marais began to be rehabilitated in the 1960s and now hosts numerous art galleries.
In Rutherfurd's novel, each of these transformations is tied to individuals and families. We escape in the middle of the night with Jacob and his family and later sell our paintings with Marc Blanchard. One of the most fascinating parts for me was Thomas Gascon's work building the Eiffel Tower where I for the first time grasped what an engineering marvel it was, the vision of its architect Gustave Eiffel, and the courage of the men who built it.
You may start this book as I did intending to learn about the history and geography of this remarkable city. But I defy you to resist getting swept up in the stories of these individuals, their dreams and passions, their choices and chances. If stories really are the way we best remember things, as current research tells us, then what better way to learn about Paris than through these stories?
What book about or set in Paris have you read?