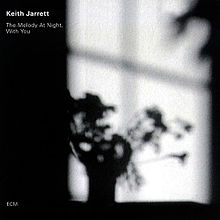 Songs, whether vocal or instrumental, are stories too. And sometimes poetry. I listen to a lot of classical music and–when I want calm and comfort–to Keith Jarrett's The Melody at Night, with You. The playlist below filled the rest of my musical hours; they are the songs I kept coming back to this year. Many thanks to my friends for their music.
Desperado, Johnny Cash
Marching Through Georgia Lament, Jacqueline Schwab
Johnny Has Gone For A Soldier, Jacqueline Schwab
And Am I Born To Die, Béla Fleck & Abigail Washburn
New South Africa, Béla Fleck & Abigail Washburn
Bitter Boy, Kate Rusby
Times A-Getting Hard, Happy Traum
Shebeg An Sheemor, Happy Traum
Gypsy Davey, Happy Traum
Sail Away Ladies/A Roof for the Rain/Snake River Reel, Ken Kolodner & Brad Kolodner
Black Jack David, Sweet Felons All
Raggle Taggle Gypsies, Sweet Felons All
Cornish Lads, Sweet Felons All
Adieu Adieu, Sweet Felons All
The Star Of The County Down, Walt Michael & Company
Ruins by the Shore, The Paul McKenna Band
Flying Through Flanders, The Paul McKenna Band
Slängpolskor, Lydia & Andrea
Schottis till Tom, Lydia & Andrea
Sweet Thames Flow Softly, Ian Robb

I also have to add that I've been listening to Ryland Angel's mostly a capella Christmas CD The New Voice of Christmas. His voice is quite lovely–I should say all his voices, since he sings multiple parts. What a range! I especially like an old favorite: In the Bleak Midwinter, and a hymn new to me: Be Thou My Vision.
What music have you been listening to?