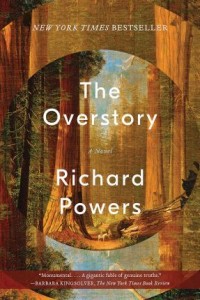 I read this popular, Pulitzer Prize-winning novel a few months ago but wanted to let it sit for a while before blogging about it. I needed to sort out the emotions it left me with: a combination of enchantment and disappointment.
It's an ambitious work, one that is out to change the world, at least our human part of it. Powers conjures our life as a whole, the one that we share with the rest of nature, through nine characters, whose individual tales bounce off each other and sometimes intersect. While their goals may be art or love or survival, each character's journey is also one of developing a relationship with nature, specifically trees.
Writers are told to avoid polemics, to get down off our soapboxes, or we risk annoying or alienating readers. I don't think anyone could question the wondrous greatness of trees or their life going on independently of us, yet Powers avoids the trap of dogma by giving us their side of the story through those of his characters, their resistance, their devotion, their sacrifice.
I didn't need convincing. I've had a deep emotional attachment to trees since earliest childhood, counting some among my best friends. Nor did the rest of my book club, all of us already in love with trees, living as we do in the Green Mountains. Yet we all struggled with the beginning of the book, unable to remember the characters after each was introduced in the first section, having to flip back to remind ourselves.
We were also disappointed—while profoundly moved—by the ending. I try not to give away endings, so I'll just echo the assertion of writing master Donald Maass that we want stories that reflect reality; he says, "the truth is that while we may live in a bleak world we are not empty inside." Here, the enigmatic ending left us debating this idea.
The baffling prologue was enough to make me put the book down several times before reluctantly reading on for the sake of my book club. As it turns out, it doesn't reflect the book as a whole. You can safely skip it.
Otherwise, the writing is often enchanting. Eventually the characters became distinct and memorable but always the events and descriptions kept me reading.
Now the linden, it turns out, is a radical tree, as different from an oak as a woman is from a man. It's the bee tree, the tree of peace, whose tonics and teas can cure every kind of tension and anxiety.
Powers also brings devastating psychological insight to his characters. One, a man who has lived a life considered normal for a middle-class American man, says: "I've been a man who happily confuses the agreed-upon for the actual." A brilliant description that could fit quite a few people I know.
But what I find most stunning is the brave attempt to write a larger story, surely another meaning of the title, which the author uses as a synonym for trees' canopy. By telling the world's story through those of nine characters, Powers has chosen the most effective way to accomplish this seemingly impossible task. As writing master Lisa Cron has memorably described, stories have been our means of survival since the earliest days. Stories are how we learn and the best way for us to remember.
My book club discussed the concept of forest bathing, the idea of de-stressing and even healing by walking through the woods, agreeing that we all had been doing this long before the term was coined. We hoped that this novel would increase awareness of and activism to protect the natural world, especially our beloved trees.
Have you read this book? What did you think of it?