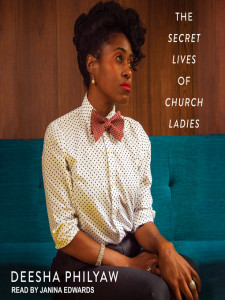 The nine brilliant short stories in this award-winning collection center on black women whose conflicts are influenced by their relationship to the church. I knew that the church's influence on the black community was strong, but welcomed this frank look at how that plays out in individual lives.
In the first story "Eula" two forty-year-old women are getting ready to celebrate the last New Year's Eve of the twentieth century. They have been friends for many years and, more recently, occasional sexual partners. Yet while our narrator is honest about her sexuality, Eula still wants a church-approved marriage. Most women will remember, as I did, the many times a female friend has ditched them for a man, real or fantasy. Still, it's hard to resist those lifelong teachings. Setting the story at the turn of the century adds metaphorical resonance to this intimate story.
"Peach Cobbler" explores a teenaged girl's conflicts with her mother, here lifted out of the ordinary by the mother's longtime affair with their pastor. The push and pull of the young narrator with her mother, the pastor, and the church drive the story and add subtlety and nuance to the whirl of emotions teenaged girls experience.
Each story is a master class in voice. The women who narrate them are different in many ways—age, sexuality, experience, location—giving each a voice that is more than distinctive; it is unforgettable. As with any voice that we create on a page, each is formed by what the character says—the vocabulary they use, the details they notice, the opinions they voice—and how they say it—the diction, sentence structure, even the sounds of the words. Along with these, voice comes from the character's values and biases, their dreams and regrets, the weight of their life experience.
We've been talking in my writing workshops about allowing ourselves to be vulnerable. Whether introvert or extrovert, we all have developed ways to protect our private selves. Yet this reticence is exactly what we must set aside to write. Risky? You bet.
New York Times best-selling author Robin LaFevers says:
In order to take our writing to the next level we must embrace our strange, unique, and often embarrassing selves and write about the things that really matter to us . . . We need to be willing to peel our own layers back until we reach that tender, raw, voiceless place. We need to get some skin in the game. It should cost us something emotionally to tell our stories.
Award-winning children's and young adult author Meg Rosoff suggests exploring our unconscious to open up our stories:
Authentic voice comes from unconscious. Examine the connection between the conscious (small) and the unconscious (big, scary; conflict, darkness and death) mind . . . Your past is stored in the unconscious, your own ghosts, the things you don't want to think about. The best, most surprising, most thrilling writing comes from the unconscious, not the conscious mind. Conscious writing won't resonate, and your reader won't feel that they've connected with a real person
Fiction gives us a way to explore these raw, sometimes scary places. Through the characters in a story, both writers and readers can go where we might otherwise hesitate to venture.
What makes these stories so powerful are the characters, their strong voices, their willingness to open their hearts. Their vulnerability enables readers to recognise all that we have in common no matter how different our individual experience might be.
And this is the great gift stories offer us.
What book of short stories have you read recently?