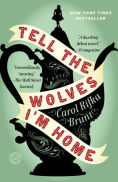 This 2013 debut novel came highly recommended. I approached it cautiously, prepared to be disappointed, only to be thoroughly charmed by the voice of the narrator, fifteen-year-old June. One of the blurbs compared her to Scout in To Kill a Mockingbird, but I thought immediately of Cassandra in Dodie Smith's I Capture the Castle. Both young women are imaginative and well-read. Both have beloved older sisters who seem to be moving away from them. Both are set apart from their peers, Cassandra by her peculiar family and living situation, June by a special friendship.
The voice alone would have carried me through the novel, but the story is gripping as well. As it opens, June remembers when and her sister Greta were being driven by their mother to Uncle Finn's apartment to continue sitting for the portrait he was painting of them, Uncle Finn who was dying of AIDS. It is the late 1980s, when AIDS was still new enough that, unsure of how it was transmitted, people feared and shunned the infected.
For June, who hardly saw her accountant parents during tax season and was ignored or tortured by her older sister, Finn was the one person with whom she could be herself. He took her to the Cloisters and Renaissance festivals and museums. He shared her fascination with the Middle Ages. She would often walk into the woods to pretend she lives in another time altogether. His death has left her bereft.
The story moves easily between memories of times with Finn and the present of the story: tax season, with the girls left alone to care for themselves. Popular Greta, who is two years older, is in her last year of high school, having been moved up a grade. She is starring in play at school and struggling with her own demons.
June is stunned by the loss of her confidante, struggling with the idea of death and, later, with the impossible task Finn has left for her.
There is so much I love about this story: June's imaginative life that reminds me so much of my own at that age, the relationship between the sisters, the absent Finn and his care for his niece, the mounting suspense as events close in around June. I especially love the use of symbols.
I've always appreciated the use of symbols, particularly when they mean something a little different each time they reappear. The best at using symbols is Paul Scott, author of The Jewel in the Crown and other novels. In an essay, "Imagination in the Novel", he describes how he came up with the central symbol of one of my favorite novels, his Birds of Paradise. His idea for the novel began with an image of a woman appearing in a doorway. The idea of her wearing "fine feathers" leads him to his symbol.
Sometimes this thing that glitters appears, sometimes it doesn't. The thing that glitters is often a symbol. If the symbol can be justified, it is best to use it for all it is worth, to be honest about it, to say: "This is my symbol and this is what it means." . . .

It was the idea of birds of paradise that glittered, and they became my symbol because, upon investigation, they not only stirred me with the idea of their beauty, but yielded information pertinent to the idea of the woman in the doorway and to the general climate of something having come to an end. Research brought knowledge.
Later he adds a third factor: "an experience of the oddity of life. The imagination, the knowing, and the experience finally cohere into a pattern."
In Brunt's novel we have various symbols: the woods where anything can happen, June's medieval boots given her by Finn. The main symbol, though, is the wolves. June hears a pack of them in the woods—they are part of her secret world, and it's significant when and with whom she's willing to share them. And then wolves begin to emerge in unlikely places. At one point she says they are "hungry and selfish."
This is more than a coming-of-age story, more than a dealing-with-the-first-death story. It is an engrossing story of deeply human emotions, ones we deny or fear, ones that lead us into actions we regret and the connections we crave.
What are you reading that has moved you deeply?