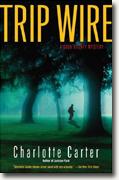 Another mystery, this time set in Chicago in December of 1968. It's the end of a tumultuous year that saw the assassinations of Martin Luther King, Jr. and Robert Kennedy, the Summer of Love, and in Chicago itself the violence around the Democratic National Convention.
Seeking independence, Cassandra has left the home of her well-off grandaunt and granduncle to live in a multiracial commune in a questionable part of town. She's in her early 20s, cutting college classes to read books on politics and social justice. When she met Wilt, a charismatic Black man, she found a friend who was on the same wavelength, and was delighted when he encouraged her to join the commune where he and his white partner Mia lived along with several others.
She delights in her new freedom and friends, happy to have found a family she has chosen rather than the over-protective relatives who took her in after her parents' death. There are tensions, not only family issues but also marijuana use perhaps affecting her schoolwork, sexual freedom coming up against learned ideas about relationships, decisions about who else to admit into the commune.
Then they discover the brutally murdered bodies of two of their members. As Cassandra tries to untangle why they were killed, she is confronted by how little she knows about her new friends, while navigating the questionable tactics of the police and resisting her family's attempts to make her come home.
The secrets and hidden agendas that make mysteries so fascinating are well-constructed here. The story kept me guessing, surprising me at times. I also found Cassandra a realistic and intriguing woman, simultaneously familiar and different, someone I enjoyed spending time with. All the characters come alive, not just their flaws and fine points, but also the different worlds they straddle.
Carter succeeds in capturing this period, which I remember only too clearly. Seeing it again through the eyes of a young Black woman, with all the additional hurdles and advantages, fascinated me. For example, much as most of us hippies distrusted the police, a person of color has more factors when deciding whether to call them when a crime is committed.
And thinking of the differences and similarities of the country during that election and the current one has given me a slightly different perspective on today. Change is hard, and the Age of Aquarius which once seemed within reach is something we are still seeking.
Anyone who is interested in a glimpse of what the 1960s were like, looking beyond the memes and stereotypes, will enjoy this book, as will mystery readers. I'll be looking for more books in Carter's Cook County mystery series.
What do you look for in a mystery series?