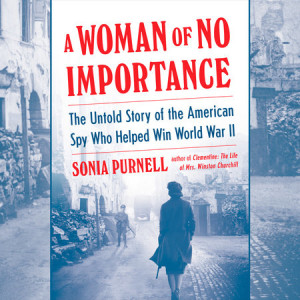 Subtitled The Untold Story of the American Spy Who Helped Win World War II, this is a fascinating read. If you thought, as I initially did, that the subtitle is a bit hyperbolic, rest assured that it is not. Born in 1906 to a wealthy and prestigious family, Virginia Hall grew up in Baltimore but preferred adventure to marriage. During WWII, she became one of the first British spies—and the first female—in France where she organised Resistance units and provided critical intelligence to the Allies.
Fluent in French, German and Italian, she initially worked for the US Consular Service before moving to the Special Operations Executive (SOE), an early UK intelligence organisation. The US had not yet joined the war and she'd previously been turned down by the US State Department because of her disability. She had lost a leg below the knee after a hunting accident and had a wooden prosthesis, yet that did not hold her back from her active work first in Vichy France, primarily Lyon which she made into the most extensive and effective center for Resistance and intel in France.
After being betrayed and hunted Javert-like by Klaus Barbie, the Butcher of Lyon, she made a daring and arduous trek over a 7,500 foot pass in the Pyrenees to Spain without even a walking stick to help. Once the U.S. joined the war she worked for the Office of Strategic Services (OSS), returning to Occupied France to organise Maquis units to harass the enemy, gather intel, and assist the Allies before, during, and after the D-Day invasion. Her intel was crucial to the D-Day planners.
I can't begin to list all she accomplished despite her wooden leg and, more importantly, despite being held back every step of the way by male superiors who couldn't accept that a woman could do useful work other than typing or making tea, hence the title of this book. This discrimination persisted after the war when she eventually found work with the CIA after the OSS was disbanded, yet was belittled and confined to desk jobs by men with no combat or espionage experience.
Yet, her intelligence and adaptability, her drive and charisma, her intense love of France and determination to drive out the Nazi invaders together won her the loyalty of the people she worked with on the ground. Only Virginia thought to use a brothel as a safe house and its workers as intel-gatherers. Only Virginia had the organizational and planning ability to organise jailbreaks from the Nazis' most forbidding prisons.
It's a stunning and inspiring story, brilliantly presented here. I learned much that was new to me about conditions in Vichy and Occupied France and the Resistance, things I thought I knew pretty well. The action is as breath-taking as any thriller. I listened to the audio version, narrated by Juliet Stevenson, one of my favorite actors, and often couldn't bear to stop. I fumed about the discrimination, grieved for the losses, raged at the Nazis' torture of captured spies, and rejoiced in her victories.
What a woman!
Have you read a biography of a "forgotten" historical figure?