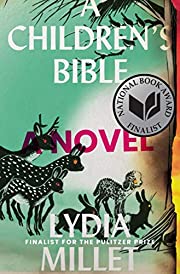 By coincidence, I read this book immediately after Rumaan Alam's novel, so two novels in a row that imagine how the looming climate catastrophe might play out.
Here our narrator is teenaged Eve. A group of families, including hers, have taken a vacation home beside a lake. The twelve children of various ages are turned loose on their own while their parents indulge themselves. The children are so disgusted by their parents' hedonistic antics that they refuse to acknowledge which set of adults belongs to them; it becomes a contest to see who can keep from being outed.
Eve is especially protective of her little brother Jack, who is curious and innocent, fragile in some ways and tough in others. One of the adults gives him a children's bible which he comes to believe explains everything about the world, for example deciding that "God" really means "nature."
A massive hurricane strikes, downing trees, flooding the area and the house, knocking out electricity and internet. In a reversal of Lord of the Flies, it is the children who decamp to the treehouse where they care for each other, while the adults, ignoring the fact that their children are missing, party even harder.
I certainly know some upper-class parents whose neglect of their children is epic, yet even they would flinch at sending their children to live in the woods during a hurricane while they themselves indulge in orgies of adulterous sex, alcohol and drugs. Adding to the sense that we're in a fairy tale rather than the real world is the fact whenever the children get in trouble, we get magical, deus ex machina rescues.
With the flood, our narrator's name, and Jack's book as rather obvious clues, not to mention the cover, it's pretty easy to line up the characters with their biblical counterparts. However, I think most readers would prefer, as I do, the satisfaction of puzzling out a story rather than having it made so easy.
Unlike the adults, the children are realistic and age-appropriate. Eve and Jack's characters are nuanced and believable, while the others are less so; I actually had trouble keeping the other children straight, much less the unnamed parents. Of course, we are getting the adults through Eve's eyes, and she's at an age when parents cannot do anything right.
Millet's decision to use a child's point of view to accuse the older generation of indulging themselves instead of actually doing something to avert the climate catastrophe is brilliant. It really is the children who will bear the brunt of the disaster coming towards us. Still, it's hard to take that threat seriously when the characters we care about are always being magically lifted to safety. When characters are forced to overcome obstacles, not only do they grow but we readers also experience their triumph. That experience is missing here.
Also missing is a larger sense of the world and society. These are privileged people. True, we run into some one-percenters who are even more aloof and protected from any danger than these families, yet we don't see people of color, middle-class workers, the poor or elderly—the people who, just as in this pandemic, will suffer the most in a climate apocalypse. Thus, the real extent of the terror and loss is missing, an enormous iceberg hidden below the waves.
As in the Alam novel, the tone of Millet's book veers between dramatic and satirical, the latter inviting you to view the story as a fairy tale or a parable—nothing that could happen in real life. That's a shame. This book could have been a good wake-up call about the coming climate catastrophe and the need to make the world safe for our children.
Have you read this book? What did you think?