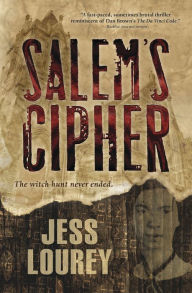 While the town of Salem, Massachusetts does make an appearance in this mystery/suspense novel, the title refers to Salem Wiley, a young woman whose deliberately uneventful existence in Minneapolis is torn apart by a phone call. She is a genius at cryptography and produced ground-breaking research for her PhD thesis, but her life is severely limited by a form of agoraphobia. The call from her best friend, Bel Odegaard, changes everything.
Police have informed Bel that her mother's apartment has been broken into, a neighbor and her dog left in a pool of blood, and Grace–Bel's mother–gone missing. When the two young women arrive, they discover that Salem's mother was at the apartment as well, something we know from the prologue, and both Grace and Vida are missing, one of them probably dead.
Despite FBI Agent Stone's warning that they too may be targets, Salem and Bel set out to follow the clue left for them by Vida, hoping to rescue their mothers. Or revenge them. As this tense, suspenseful novel tears along, the two women uncover a conspiracy going back hundreds of years. Each clue involves some kind of code, which Salem must decipher–and fast if they are to help their mothers. Factor in unforgettable characters they encounter, Emily Dickenson's home and poetry, and an election about to produce the first female president of the U.S. and you have a story that works on several levels.
Lourey also works in references to scientific contributions by women, without slowing the breakneck speed of the story. She does an amazing job of capturing and conveying the emotions of the characters, especially the fraught mother-daughter relationships.
There are a few continuity problems that another editorial pass might have caught. There are also a couple of what Ray Rhamey calls "information questions" where information well known to the point-of-view character is teased yet deliberately withheld from the reader, presumably to create suspense. Mystery readers usually want to solve the puzzle along with the protagonist, so such tricks feel as though the author isn't playing fair.
And it's unnecessary, because Lourey is brilliant at ratcheting up the suspense. Every page has multiple instances of what Donald Maass calls "micro-tension" . A new and stunning bit of information or insight, a panicked physical reaction ("frantic movements"), even the use of especially active adjectives and verbs ("The . . . plane pitched and dropped, yanking Salem out of her light sleep.") all keep the characters' emotions in conflict and the reader turning the pages.
If you like to unravel a conspiracy or a good puzzle, if you long for a novel with engaging characters and a little history and literature thrown in, then hop on this rocket of a story.
Have you read a good mystery/suspense novel lately?
Disclosure of Material Connection: I received a copy of this book free from the author. I was not required to write a positive review. The opinions I have expressed are my own.