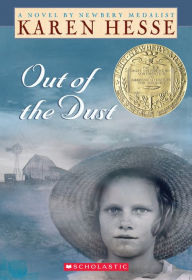 Another Middle Grade coming-of-age story told in verse—pure coincidence that this was next up on my TBR (to be read) pile when I stopped to read Brown Girl Dreaming. Hesse's story is also a Newbery winner but is fiction rather than memoir. Thirteen-year-old Billie Jo loves playing the piano when she isn't busy helping her father and pregnant mother try to keep body and soul together in Dust Bowl Oklahoma.
She is good enough to be asked to play in shows, often with handsome Mad Dog. If she gets well enough known with her music, she can leave the failing farm and the ubiquitous dust behind and go to California. Then a terrible accident throws all her plans into disarray.
Spanning a two-year period from January 1934 to December 1935, these poems paint a vivid picture of what life was like during that terrible time. She describes having to turn the glasses and plates upside down on the table until the last second before serving the meal, and still the food is saturated with dust. There is the heartbreak of a field of wheat, already decimated by drought and wind, be flattened by hail or devoured by grasshoppers.
In some aspects, Billie Jo's life is similar to many teens: wanting more independence than her mother is willing to give her, feeling as though she's stuck in the middle of nowhere. When her teacher is in a production of Madame Butterfly, and Mad Dog says that "most everyone's" heard of that opera, Billie Jo is miffed.
How does that
singing plowboy know something I don't?
And how much more is out there
most everyone else has heard of
except me?
And she has a best friend. But when Livie leaves for California with her family, Billie Jo says, "I couldn't get the muscles in my throat relaxed enough / to tell her how much I'd miss her."
Poetry works well as a form for this novel. The fractured narrative adds to the feeling that you are reading a diary. Also, the necessary compression distills each scene into its essence while retaining the emotional impact. Hesse makes effective use of symbols as well, such as the mother's special cranberry sauce for Thanksgiving. Here is one complete poem, called "Broken Promise":
It rained
a little
everywhere
but here.
Other poems are longer and tell a more complete narrative, such as "Blankets of Black" about going to Texhoma for Grandma Lucas's funeral. Billie Jo's detailed description of the ordeal is riveting.
While written for ages 11-14, Billie Jo's story will certainly appeal to adults as well. For younger readers, it's a good introduction to the terrible tragedy of the Oklahoma Dust Bowl during the Depression.
Have you read a Young Adult or Middle Grade novel that brought an historical period to life for you?