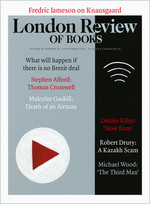 A recent vacation gave me the opportunity to catch up a bit on my backlog of LRBs. I'm a longtime subscriber to this review that comes out twice a month, enjoying not just the reviews themselves, but also the British perspective.
This issue has many articles that intrigued me. A review of Karl Ove Knausgaard's final volume by Frederic Jameson in which he analyses the fascination of Knausgaard's massive My Struggle, placing it within the history of writing and philosophy, exploring questions of truth versus fiction, theorising about the identity of the "you" addressed in these books. I'm still not convinced I want to jump into these books, but I learned a lot from the review.
On the other hand, Michael Wood's review of Graham Greene's The Third Man & Other Stories, in which he delves into Greene's process of working on the film and the story at the same time, made me watch the film again and sent me in search of the book.
When the LRB began including political essays some years ago, I was disappointed. Yet I've found the British point of view on U.S. and world events intriguing and the insight into British politics helpful. Of particular interest in this issue is a point-by-point analysis of the consequences of a no-deal Brexit by Swati Dhingra and Josh de Lyon. This should be required reading for every British voter, and news commentators from other countries.
I was also fascinated by Malcolm Gaskill's "Plot 6, Row C, Grave 15", his account of looking for the grave of Lieutenant Van Dyke Fernald, killed near Conegliano in July 1918. He gives us Fernald's short life, especially taking us inside his experience as a fighter pilot in the ridiculously dangerous planes of the time. A U.S. citizen, Fernald became a British citizen at the age of 18 so he could join up. Most heartbreaking is Gaskill's account of the reaction of Fernald's mother to his death: devoting herself to spiritualism, certain that he was contacting her, ignoring her younger son Jack in the process.
Deeply moving, as well, is Jane Campbell's account "The Year of My Father Dying" about Peter Campbell who, among other things, created all of the LRB's cover art until his death. She captures the unreality, the chasm between past and present.
I understood how pampered and oblivious I had been before; perhaps the most shocking thing about the emotional torture of the year of my father's dying was how ordinary I now realised it must be. I sat on buses and walked down high streets, wondering how many others like me there were.
She uses Christian Marclay's art piece The Clock to explore time itself, its elasticity and ultimate inscrutability.
My one complaint about the LRB is illustrated by its appallingly low Vida Count: only 27% women in the latest count (though in fairness their count is up 5% from the previous year). This breaks down to women making up 28% of authors reviewed, 24% of book reviewers, and 28% of bylines. By comparison, The New York Times Book Review's count is 46% women, Poetry Magazine's a healthy 50%, and The Times Literary Supplement's slightly better 36%. The New York Review of Books, however, clocks in at only 23% women.
I've only scratched the surface of this issue. Take a look at the LRB in your local library or use the three free articles a month available to nonsubscribers on their website. Let me know what you think.