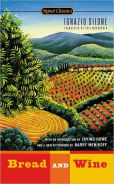 I've been reading books by my great hero, Dorothy Day. Throughout her life she worked for peace and social justice. She truly lived by her ideals. With Peter Maurin, she started the Catholic Worker movement which, among other great works, has resulted in the founding of Houses of Hospitality across the U.S., which provide free housing for those in need. As Thomas Merton said in a letter to Alfonso Cortés, "the humble, the poor, and especially the disinherited are the ones who before all else deserve our attention and our compassion."
I'm also reading books that influenced her, such as this 1936 novel by an Italian who worked underground against the fascists and was exiled. Ignazio Silone is a pseudonym adopted by Secundo Tranquilli because of threats by Mussolini's government against his family.
The main character, Pietro Spina, much like the author, works against the fascists. Depending on who is talking, he is either a dangerous revolutionary or an admired freedom fighter. At the beginning of the story, Spina sneaks into Italy after thirteen years of exile. Although he is in ill health, he is determined to organise the peasants to rise against the fascists.
In Rome, he finds his former comrades in disarray. Two friends smuggle him into the countryside dressed as a priest. This disguise causes him much inner turmoil, since he faults the church for supporting the fascists and for not doing more to help the poor. It also causes him outer turmoil because the small village where he's been sent has not had a priest for some time and the residents want him to hear confessions, confer blessings, and perform other holy duties.
The meat of the story, for me at least, is not his political work but his own inner transformation. He muses on his childhood "infatuation with the absolute, the . . . rejection of the compromises and pretenses of ordinary life, even the . . . readiness for self-sacrifice." Later, still in disguise, a chemist in the village expresses compassion for Spina saying that "'His revolt is illusory . . .'"
And Spina is becoming disillusioned. The same chemist knew Spina's father when they were students and remembers him saying later, when life had changed him, " 'The poetry has finished and the prose has begun.'" For Spina, it is his failure to interest the peasants in politics. The conversations fascinated me with their insight into what it does to a person to toil endlessly on the land and still not make enough to feed your children. Spina tries to make them think "of the use to be made of our lives."
How is one to live? That is the question I see threaded through all of these books I've been reading: Dorothy Day, Thomas Merton, Georges Bernanos, Silone. I'm interested in alternatives to resignation when our youthful ideals meet the inevitable limitations of our society, our fellows, and ourselves.
How do we resist facism? Do we continue to give of ourselves? How much? It is said of one character that she "'did not follow rules, but her heart.'" This idea gives me hope.
What book have you read that has influenced how you live your life?