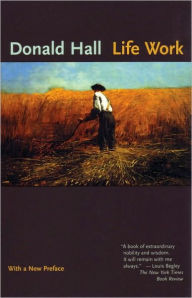 This slim book is part memoir, part meditation on the role of work in our lives from Donald Hall, who died this week. He and his wife Jane Kenyon moved from Michigan to his grandparents' farm in 1975, giving up stable teaching jobs for the uncertain income of freelance writers.
Like Seamus Heaney's poem "Digging" where he describes his father digging in the garden outside the window where Heaney sits writing, Hall compares his beloved work laboring with words to the more physical work of his grandparents. One thing he finds in common is that they do different tasks all day, unlike those who labor at repetitive jobs.
Hall gives us engrossing accounts of this grandfather's work in the fields and barn and his grandmother's work in garden and kitchen. He himself moves from one poem to another, one prose piece to another. He runs errands and handles the myriad tasks associated with the business of being a writer.
Writers are often asked about their routine. When do you write? Where and for how long? Do you write longhand or on the computer? Hall gives us answers to these questions, for both good days and bad days.
More importantly he addresses the bigger questions. What are you going to do? What do you dream of doing? What would be an authentic life for you? As Mary Oliver says in "The Summer Day":
Tell me, what is it you plan to do
with your one wild and precious life?
What his work and his grandparents' work have in common is that they induce a particular state of mind. Asked by novelist Gurcharan Dar what contentment is, Hall answers, "Contentment is work so engrossing that you do not know that you are working." It is Dar who comes up with a term for this state: absorbedness.
Leisure or a life dedicated to enjoyment is ultimately not fulfilling. As John Fowles noted in The French Lieutenant's Woman, the curse of the Victorian upper class was boredom. With no work to do, both men and women often entertained themselves to death—or near-death—through gambling, drugs, overeating, imagined illnesses, and so on.
Absorbedness is an answer to the question Fowles raises: When are we most free, when we are "working well within a harness" as Frost says or when we take responsibility for living an authentic life per Kierkegaard?
When asked by Hall about the secret of life, Henry Moore answered, "'The secret of life is to have a task, something you devote your entire life to, something you bring everything to, every minute of the day for your whole life. And the most important thing is—it must be something you cannot possibly do!'"
Hall's meditations on work are sprinkled among accounts of his childhood on his grandparents' farm, his travels with Jane, the birth of grandchildren, the recurrence of his cancer, and his preparations for his possible death during surgery for that cancer.
I'm reminded of the Canadian film Last Night which follows several people on what will be their last night since everyone knows the world will end at midnight. The choices different characters make are funny and sad. Do you simply sit in despair waiting for midnight? Do you riot, or drink, or fulfill a longheld ambition to have sex with your high school French teacher?
I asked my son what he would choose for his last night. He described what was then a typical Sunday for us: sitting around the fire together reading and taking turns working the crossword puzzle. Similarly, Hall describes his best day as one filled with work and loving moments with Jane.
What would your best day look like?