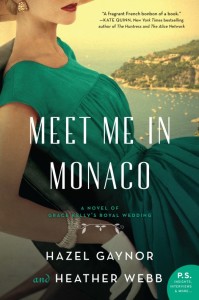 What a delightful summer read! Whether you're at the beach, on a plane, or—like me—glued to a fan, weathering a heat wave in town, this Novel of Grace Kelly's Royal Wedding, as the subtitle says, is the perfect read.
The story opens in May of 1955 as Grace Kelly arrives in Cannes for the film festival, trailed by a horde of paparazzi. Among them is James Henderson—"Jim to my friends"—an English photographer more interested in landscapes than celebrities, but needing to make a living to help support his divorced wife and beloved daughter Emily.
Despite her sunglasses and headscarf, Grace is spotted by Jim and takes refuge in a small perfume boutique. The shop and the perfumerie in Grasse where the perfumes are produced are owned by Sophie Duval. Her home in Grasse, "a stone farmhouse surrounded by sunflower and lavender fields", is where Sophie prefers to spend her time, creating new scents and experimenting with different blends, but she needs to maintain the shop in Cannes. Luckily she has her and her father's longterm employee Natalie to run it, but Sophie must be present during the festival.
With Sophie and Natalie's help, Grace avoids Jim, but he's not disappointed. He tries out his terrible French on Sophie and snaps a parting shot of her, capturing her angry response. Even in the scrum of the film festival, the two will run into each other again, as Jim struggles for the perfect photo of the film star while Sophie attends events with her wealthy fiancé Lucien.
I loved this story. (Full disclosure: I'm acquainted with one of the authors.) The time period is beautifully evoked, pulling the curtain to reveal more of the reality behind the glamour. The characters, including Grace herself, come fully alive, even minor characters like Natalie, Jim's daughter Emily and his friend Teddy. They linger long after the story is brought to a satisfying conclusion, like the ghost of a scent.
The perfume business is what most intrigued me in this novel. Sophie's father taught her that "A parfumeur is to be a keeper of memories." The scents she creates conjure up memories of people and places. It's what she thinks of when she meets someone for the first time: what combination of ingredients capture this person's essence? The descriptions of these blends are enchanting: verbena, vanilla and ginger for young women; violet, oakmoss and cinnamon for an older woman; lime and jasmine for someone who sparkles. Caught up as I was in the story, I still was happy to absorb some information about how perfumes are produced and the way the scents are layered.
It can be risky to write historical fiction set in a time that is still within living memory of many readers, disconcerting as it is to realise that what seems to vivid to some is considered history by younger generations. It can also be risky to include real people as characters. But Gaynor and Webb meet both these challenges effortlessly. Or so it seems; it is only in retrospect that I can appreciate the amount of research that must have gone into this novel and the care taken to keep it from intruding on the story.
If you're looking for a read that will carry you off to destinations such as Provence and the French Riviera, a story that will fill your senses and your heart, you can't go wrong with this novel.
Have you been surprised by a novel that appeared to be pure entertainment, but turned out to be something much more substantial?