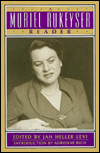 Rukeyser has been one of my favorite poets since I first stumbled across her work while in my early 20s. I was drawn to her initially by her commitment to social justice. She spoke out against poverty and racism in poems that didn't need to preach. Instead, they make you yourself feel what it is like to suffer such injustice.
While still a young woman, she traveled to Gauley Bridge, West Virginia, where scores of people were dying of a new disease: silicosis. It caused by breathing the silicate dust that coated the town, while the mine's owners refused to admit the connection or provide any protection. They simply fired anyone who was too ill to work.
When the blast went off the boss would call out, Come, let's go back,
when that heavy loaded blast went white, Come, let's go back,
telling us hurry, hurry, into the falling rocks and muck.
That poem, "George Robinson: Blues", is a good example of how Rukeyser worked her magic. It is a persona poem, in the voice of George Robinson (his real name was Robison). It starts off gently:
Gauley Bridge is a good town for Negroes, they let us stand around, they let us stand
around on the sidewalks if we're black or brown.
Vanetta's over the trestle, and that's our town.
Then it begins to turn:
The hill makes breathing slow, slow breathing after you row the river,
and the graveyard's on the hill, cold in the springtime blow,
the graveyard's up on high, and the town is down below.

Did you ever bury thirty-five men in a place in back of your house,
thirty-five tunnel workers the doctors didn't attend,
died in the tunnel camps, under rocks, everywhere, world without end.
We are taken deeper into the anguish, anger buried under the simple facts. Finally Robinson's voice comes back to a hopeless stoicism and wry humor.
Looked like somebody sprinkled flour all over the parks and groves,
it stayed and the rain couldn't wash it away and it twinkled
that white dust really looked pretty down around our ankles.

As dark as I am, when I came out at morning after the tunnel at night,
with a white man, nobody could have told which man was white.
The dust had covered us both, and the dust was white.
Deeply interested in science, Rukeyser believed that poetry is "an exchange of energy, a system of relationships." Energy is exchanged between poet and reader. Connections are made between images, images and words, but most of all between the poet and the reader. The poem asks the reader to feel something. In her extraordinary book The Life of Poetry, Rukeyser says, "One of the invitations of poetry is to come to the emotional meanings at every moment."
To be continued next week when we'll look more closely at some elements of Rukeyser's craft.
What poems of social commentary stand out for you?