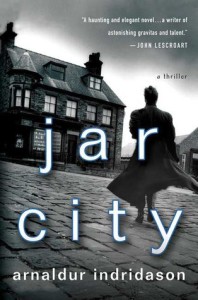 I have long had a soft spot for Iceland, partly from Halldór Laxness's novels, so I was excited to find this mystery set in Reykjavik. The first of Indriðason's books to be translated into English, Jar City starts with Detective Inspector Erlendur at the scene of a murder. In the sitting room of the basement flat he finds the body of a 70-year-old man who has been hit in the head with a heavy glass ashtray. Although Icelandic murders are not complicated, Erlendur knows this case will be different. In fact, everyone at the crime scene realises that this murder is something quite special, because they have seen the cryptic note left on the body, only three stunning words.
You want to know what they are, don't you? So did I. When a mystery opens with this sentence "The words were written in pencil on a piece of paper placed on top of the body" you don't expect to have to get through half the book before you find out what those words are.
This trick is what Ray Rhamey of Flogging the Quill calls an information question. He explains that the first page of any novel should raise a story question—a plot question about what will happen next—but not a simple question about information that the characters in the scene obviously have but the author has chosen not to reveal. Information questions break the contract between writer and reader, a contract especially binding in a murder mystery where the reader is challenged to identify clues and put them together to reach the answer before the detective does.
The note is only the first of several information questions in the book. Another egregious one is the identity of Erlendur's mentor Marion Briem, whom we are told in a foreword has a gender-neutral name and whose gender is never identified by a pronoun. I'm all in favor of appreciating the spectrum of gender, but here it's done so coyly that it just feels phoney. Information questions are a cheap way to try to create suspense instead of actually working to create suspense through the story. And they are irritating.
Aside from the information questions and some inconsistent word choices that are probably the fault of the translator (i.e., slang from different countries and different parts of the U.S. inexplicably mixed together), the book is quite good. Indriðason's prose is appropriately spare, giving the reader a feel for life in Iceland's capital city.
Erlendur is the usual sloppily dressed, lonely detective. He has two grown children: Eva Lind, a drug addict who provides a subplot for the book, and a son of whom we're only told that he's in "rehab". Presumably that's for recovery from alcohol or drugs rather than a knee replacement, but once again we are not given that information.
The story behind the murder is laid out well, with deceptive blind alleys and red herrings. Best of all, there is a larger story, a story about an aspect of society specific to Iceland but relevant to all of us.
You want to know what that larger story is, don't you? Irritating, isn't it? But in this case, I'm sparing you from a spoiler. If you can get past your irritation, the book is actually a good read.
Have you read any books set in Iceland?