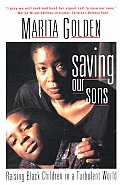 Ta-Nehisi Coates's book Between the World and Me has been getting a lot of press since it came out last year. With good reason: Coates's letter to his son is an essential reminder to all of us, in the U.S. at least, that a hope and a dream alone are not enough to undo centuries of racism built into the structure of this country. His fears for his son's physical safety took on new resonance in the outrage over the deaths of Trayvon Martin, Michael Brown, Eric Garner, Tamir Rice, Freddie Gray and too many others.
Yet it was this slim book by Marita Golden that I first read twenty years ago that truly brought home to me the dangers faced by young men of color and the emotions endured by their parents.
Golden's book has a different focus than Coates's. It is not a letter written to her then-teen-aged son. Rather it is a combination of interviews, essays and journal entries that document her search to discover how on a practical level she can keep her son—and all our sons—safe.
How much should she worry about his taking on the walk and fashions of the street? Should she and her husband move out of Washington, D.C., to a suburb? Should she take Michael out of public school and send him to boarding school? What should she tell him so he can protect himself? How to couch it so as to scare him enough but not too much, this child she has worked so hard to make feel loved and safe and secure?
You can imagine how Golden's thoughts and fears hit home with me, since I have two sons, at that time barely out of their teens. I worried about them, knowing how dangerous the streets are for young men, whether from other young men looking to assert themselves or from those who assume a teen-aged boy must be a troublemaker.
Walking in our neighborhood, they had been bullied by police who assumed they must be about to commit a crime. But they weren't handcuffed or arrested. They weren't shot. I knew already, before reading this book or any other, that insulting and infuriating as those incidents were, they were nothing—nothing—compared to what could, maybe would have happened if their skin had been a darker color. They and I are well aware that we walk with privilege, unearned and unwelcome.
I urge everyone to read this powerful book. Golden's call to action is more vital than ever. She says:
There was a transcendent moment in our history when we faced bulldogs, water cannons, jail cells, firebombs, assassinations, sacrifice, so that our children could be full citizens. What will we do so that they can live?
They are my children too. And yours. They are the future.
What will you do?