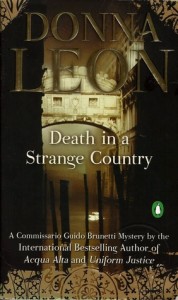 It's been a few years since I've read the early books in Donna Leon's mystery series set in Venice. With all the nonfiction books I've been reading that are set there, it seemed like a good time to revisit them.
In this second book in the series, Commissario Brunetti is called when a body is pulled out of a canal, apparently the victim of a mugging. It turns out to be an American sergeant, a health inspector from the U.S. base at Vicenza. Brunetti's superior officer, Vice-Questore Patta, whose only concern is politics, wants the case tied up quickly so tourists are not spooked and the Americans in Vicenza placated. However, Brunetti believes there is much more going on here than a mugging.
As you would expect for a senior police officer, Brunetti is working other cases, including the theft of paintings from a well-connected businessman—someone whom Patta wants to cosy up to.
One of the unusual features of this series is the weight given to Brunetti's life outside of work, primarily his home life with his astute wife Paola and their two children—sixteen-year-old Raffi and thirteen-year-old Chiara—who are growing up too fast for Brunetti. The theme of parents and children runs through all the storylines here, subtly enough that I didn't realise it at first.
We might all wish to have a Paola in our lives: a wise counselor who can bring us back to earth when we get carried away or confused, not to mention creating a delicious risotto for dinner. The warmth of their family life—Chiara bargaining to stay up to finish her book, Paola joining Brunetti on the balcony—is lovely, while the occasional irritations or silences keep it realistic.
Writers often talk about making the setting a character in a novel, and certainly Venice is a major character in Leon's books. The author accomplishes this by incorporating details of the culture and customs as well as the buildings and canals. There are Brunetti's movements around Venice, stopping for a coffee and noting the slight nod that orders a shot of grappa be added. There's the game he plays with himself where he rewards himself with a drink when he spots a previously unnoticed architectural detail. And the way a night watchman slips an orange card into the iron grating outside each shop to prove that he has come by.
The evocation of Venice and Brunetti's life there is more important for me than the mystery. I would be perfectly happy with these books even if there were no mystery at all.
Brunetti's efforts to solve the mysteries are complicated by the corruption and profiteering in government and business, both deeply intertwined with the mafia (the novel was first published in 1993). Naturally this made me squirm a little, since here in the U.S. these crimes have been flagrantly committed at the highest levels of the government in the last few years.
Much here reminded me of John Berendt's portrayal of Venice and the shenanigans around rebuilding La Fenice. My understanding of the geography gained from that book and the others I've been reading enhanced my enjoyment of this book, filling out my imagination as I traveled the streets and canals of Venice with the commissario, a character with whom I would gladly spend any amount of time.
Have you read a mystery or other novel set in Venice?